Poland: Citizens in favour of Sosnowiec stadium
source: StadiumDB.com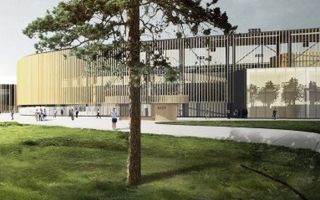 83% of the population said yes. Today's announcement means the municipality of Sosnowiec will follow through with their new 12,000-capacity stadium.
Today the mayor of Sosnowiec Arkadiusz Chęciński announced the result of public consultation regarding Zagłębiowski Park Sportowy, the city's largest ever sports project.
Residents were asked in a paper survey to specify if they agree for their tax money to be spent on the precinct. This form of consultation is very rare in Poland which may be among reasons why only 3% of the residents decided to take part in the vote.

Overall 5,580 surveys were returned to the city hall and overwhelming majority reaching 83% (4,386) expressed support for the plan. Remaining 17% (904) were against the stadium. This outcome means the city is ready to sign design contract with JSK Architekci, who won the official conceptual competition.

As part of the precinct, Sosnowiec will receive a modern 12,000-seat stadium, a 3,000-seat indoor arena and a 2,500-capacity hockey hall. All of the buildings are to be incorporated into a major public green area.
Sosnowiec municipality are hopeful of delivering the whole complex for PLN 150 million ($38.5m), though detailed estimations won't be available until 2017. Construction may proceed then with the stadium being delivered first, followed by the two remaining arenas.