New design: "Jeans Genius" tailors a stadium for Bassano
source: StadiumDB.com; author: michał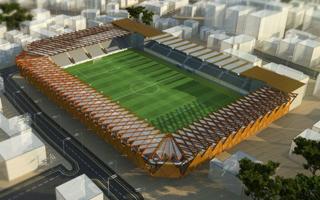 Bassano Virtus – have you heard of such club? If not, that's exactly what Renzo Rosso hopes to change in upcoming years. The fashion giant is thinking of a new stadium.
So far they're playing in the north of Lega Pro, Italian third league. Promotion this season sounds unlikely, but not impossible. Bassano Virtus 55 ST are still a fairly unknown team from Bassano del Grappa, a town of 45,000 people near Vicenza.
But they have one thing going for them. Or, should we say, one man: Renzo Rosso, nicknamed the "Jean Genius". Creator of world-recognised brands like Diesel, Rosso is among the wealthiest Italians and he was born precisely here, in Bassano.
Also here he took over at the football club back in 1990s. His ownership came with a name change that honours... him. The '55' in Virtus' name refers to his year of birth. And ST stands for Soccer Team, making Bassano Virtus the only professional team in Italy to use the word soccer. But regardless of naming controversies, Rosso is hopeful that he will succeed in introducing Bassano Virtus to the upper echelons of football. First and crucial step: Serie B.
It's within reach, which is why Virtus are to get a brand new stadium. It's expected to grow on the spot of current Stadio Velodromo Rino Mercante, salvaging only its main grandstand (south side). The velodrome will be demolished and new seating sections brought close to the field.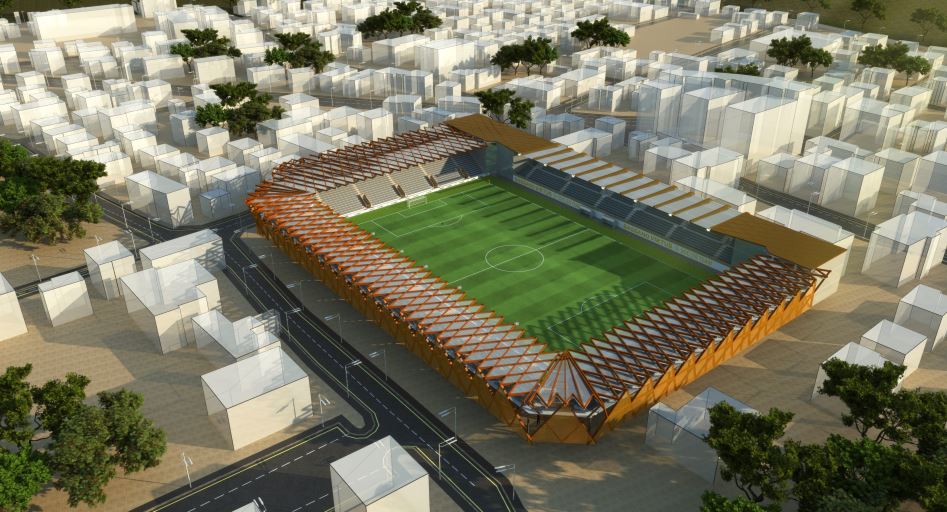 © Bassano Virtus 55 ST
At present the stadium holds under 3,000 people. In late 2016 the new building was announced to increase the size to 5,000. However, when the club presented official renderings a month ago, the stands were already designed with up to 8,000 people in mind, even if the beginning capacity is expected to be 6,000.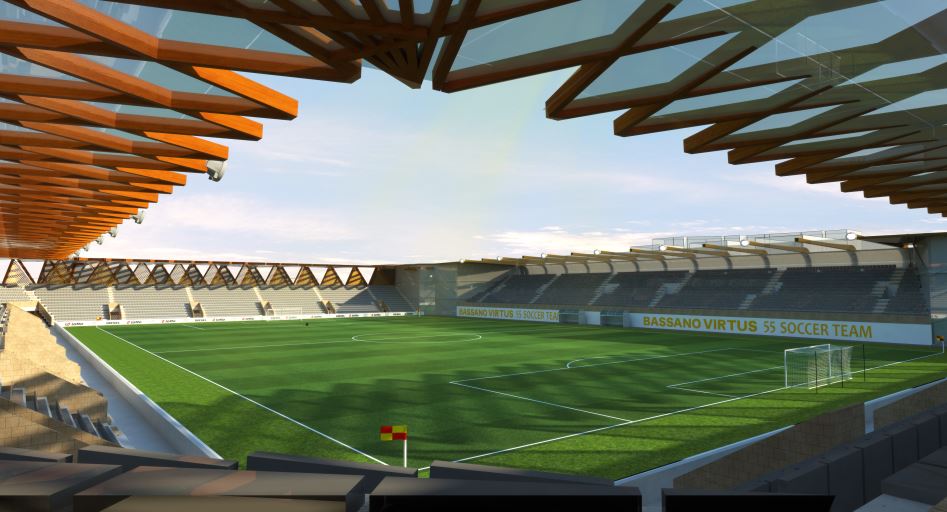 © Bassano Virtus 55 ST
While these images should not be treated as final (early stages), the intent surely is serious. Even the preliminary design was drawn by renowned architect Riccardo Cestari, experienced author of sport venues working in the UK.
As of yet the stadium is in pre-feasibility study phase, expected to deliver results in late Spring. Then we'll know if a building of such size could be built in the place of current Stadio Mercante. Let's see!