USA: Seventh stadium for Allianz in Minneapolis?
source: KSTP.com / FiftyFive.one / epluribusloonum.com; author: michał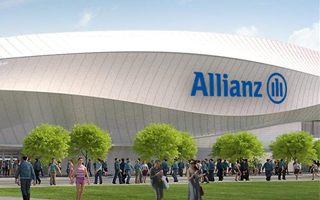 Mógłby się nazywać Allianz Field, ale to jeszcze nic pewnego. Za to fakt porozumienia między Minnesota United a Allianz potwierdzają dwa lokalne źródła.
FiftyFive.one was the first website to claim that the deal is secured, but two other media outlets in Minnesota also went with the story, one citing an anonymous source, which quickly had its title changed from 'rumor' to 'confirmed'. All of them name Allianz as the naming rights partner for Minnesota United FC's new stadium in Midway, St. Paul.
The German insurance giant could name the stadium Allianz Field, according to fan-ran epluribusloonum.com. That name isn't confirmed by anyone else, but would surely comply with Allianz's naming policy, which requires each of their numerous naming rights deals to end with a different name. 'Field' is still available.
Partnership with Allianz seems likely also because the company is yet to secure any naming rights deal for a stadium throughout North America / CONCACAF, one of the world's rising football markets.
After Allianz Arena (Munich), Allianz Park (London), Allianz Parque (Sao Paulo), Allianz Riviera (Nice), Allianz Stadion (Vienna) and Allianz Stadium (Sydney) it only seems fitting for USA to get a piece of that 'cake'. Of course the below image is only an unofficial attempt to illustrate the potential partnership, it's not sanctioned by any of the involved parties.