Stadium of the Year 2016: Reason 12, Hard Rock Stadium
source: StadiumDB.com; author: michał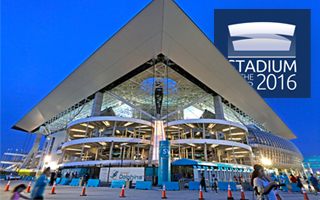 If any nominee in this year's competition deserves credit for logistics, it's this one. Delivering such an immense makeover in less than 1.5 year is a huge achievement.
We praised the Austrian Allianz Stadion for disciplined construction time, so we have to give the deserved credit to Hard Rock Stadium in Miami Gardens. Dolphins, HOK Architecture and Hunt Construction Group ran a project that stands out on the list of Stadium of the Year 2016 contenders!
You surely knew this stadium from years back, especially for its 5 (!) Super Bowl games, over the years known as Dolphins Stadium and Sun Life Stadium. In 2017 it will be 30 years old and yet already it saw one major expansion of its floor space, while in 2015-2016 by far the most impressive works have been carried out, earning it the right to be listed in our competition.
Redevelopment began in 2015, when much of the lower stands along the field got demolished. Redesigned, they were recreated in much more compact layout, 7.6 meters closer to the field. Also, in 2015 the stadium lost its upper corner sections, making way for 4 large screens, each of 520 m2! Yes, stunning 2,080 m2 of screens, something rarely seen outside of the US.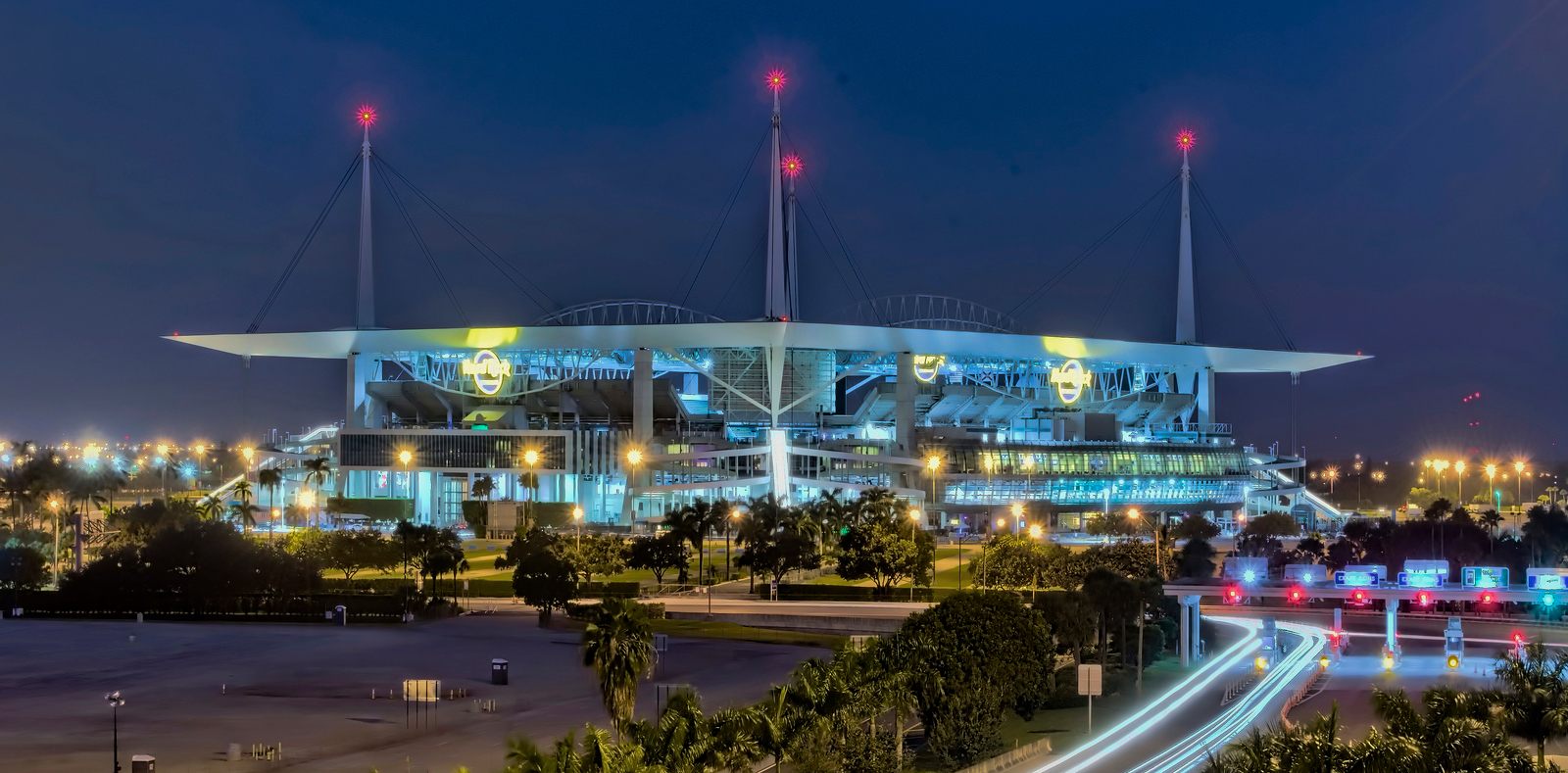 © Jorge Molina
Additionally, the floor space under each screen was used to create new hospitality areas, named the Corner Terraces. But much more impressive premium seating option was delivered in other areas of the stadium, where 32 'Living Room Boxes' were created. Yet, the name says it all. Each semi-open lounge offers 4 reclining armchairs, furniture, a fridge and sink, making the space feel cosy. Overall the stadium's hospitality offer grew from 8 to 16 different options. In turn, capacity dropped by 10,700, reaching the current level of just over 65,000.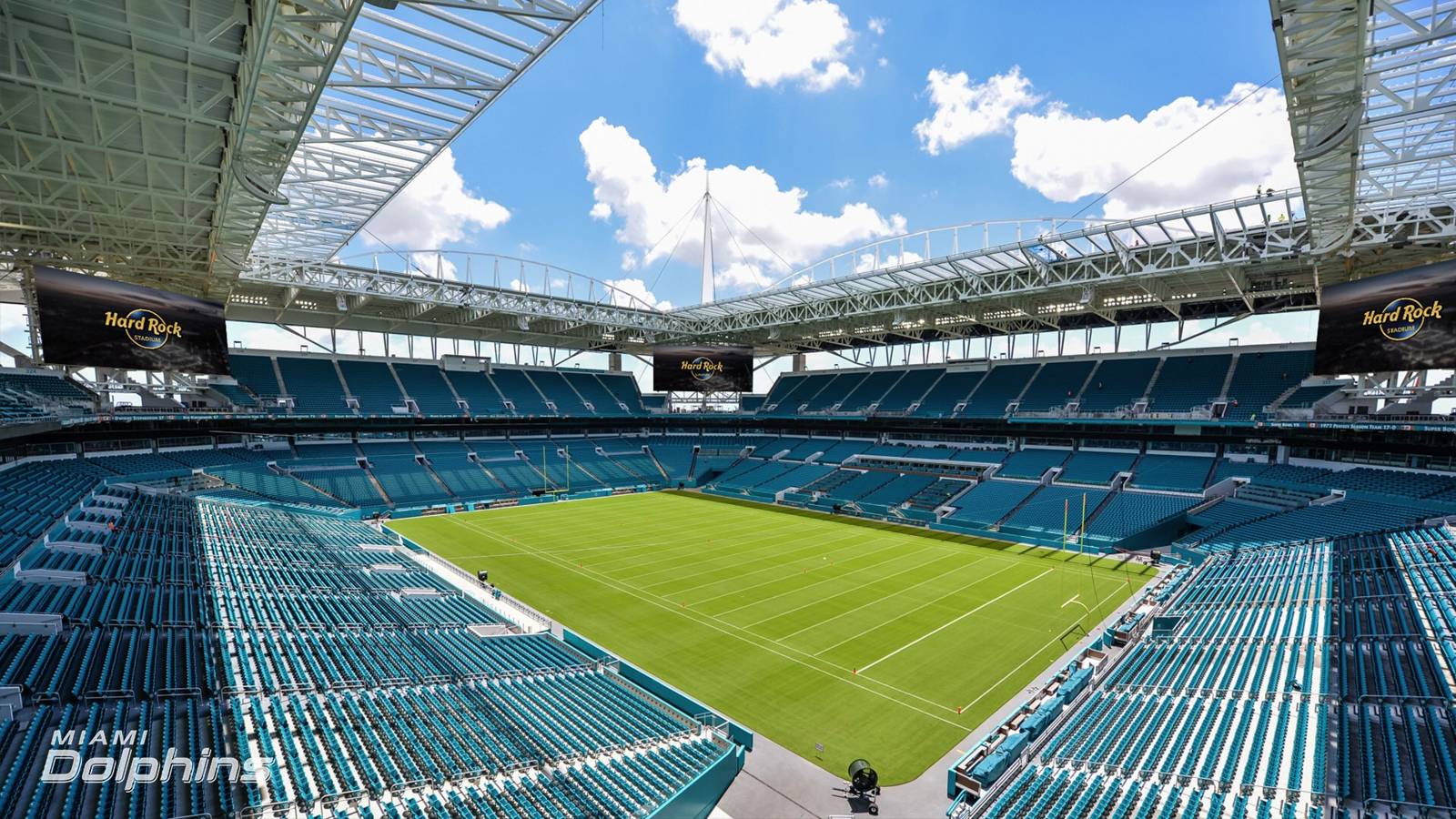 © Miami Dolphins
During the 2nd phase, in 2016, the stadium was given one of the most incredible canopies currently in use. Its scale gives a hint why it's so special. 8 super columns (2 per corner) support massive 17,000 tons of steel and cladding, which spans over 58,000 m2, much more than the stands require. And on top of that, each corner has a spire reaching 109 meters in height!
Now for the most amazing part: both the 2015 and 2016 phases were ran separately and contractors had literally 8 months to deliver each of them, divided by an NFL season for which the stadium had to be in operation. That's a challenge which was met brilliantly, even if at a higher price than initially expected…