Finland: Skanska to rebuild Olympiastadion
source: rakennuslehti.fi; author: michał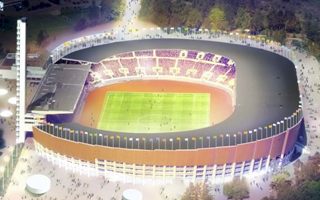 Skanska have won their highest ever contract in Finland. The company will renovate the Olympic Stadium in Helsinki and works are expected to begin shortly.
Skanska Suomessa, subsidiary of the global construction giant, have just landed their largest ever contract. The company will be paid €156 million for the job of upgrading Olympiastadion.
It was previously announced that total cost of the conversion would reach €261 million and as of yet we don't know if Skanska's contract lowered the bill or if it's only part of the planned spending.
Work on site in Helsinki is expected to begin by the end of March with the goal of delivery in 2019. As we previously reported, the stadium's conversion is unique in a way. The bulk of existing structure will be retained due to its protected monument status.
Still, floor space of the stadium is expected to grow very significantly, by 19,290 m2! The expansion will include new offices and commercial spaces, as well as catering facilities and toilets, the number of which is expected to double.
Of course the project also includes new running track and field, brand new seats and expansion of the existing roof to cover almost all spectators.