Prague: Chinese investors to take over Eden?
source: Euro.cz; author: michał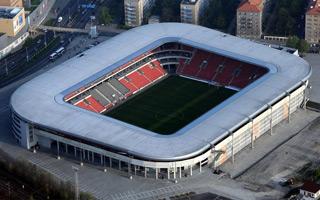 Instead of 70%, Chinese company CEFC may now take 100% of Eden Arena and make it the national stadium of Czechia.
They have 99,9% of shares in Slavia, now the seventh largest private company in China is keen on securing complete ownership of Eden Arena. It was formerly hinted in March that the corporation would only acquire 70%, but now the goal is reportedly set at 100%.
According to Slavia chairman Jaroslav Tvrdik the club and stadium will soon have the same owner as CEFC finished its audit preceding takeover. CEFC spokesman Pavel Bednář confirms that only legal and formal issues remain as overall agreement on the transaction is reached.
CEFC will take over Eden Arena and run an expansion project with Beijing Municipal and Bridge Corporation. The stadium will grow to exceed 30,000 seats (works worth estimated €49.6 million), thus becoming the largest across Czechia.
While Slavia aim at being the strongest team domestically, they also aspire to be a dominant power in Central European football. At the same time their home ground is expected to become a new national stadium, increasing its occupancy and revenue.