New stadiums: Sivas, Eskişehir and more
source: StadiumDB.com; author: michał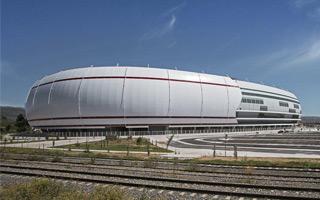 Three big Turkish clubs changed their stadiums this year already, Trabzonspor and Gaziantepspor are next. Come and follow the changes in Turkish stadium landscape with us.
We've been planning this Turkish update for a while and decided not to withhold it after Saturday. As much as the terror act is shocking, we're sure Turkish people will prevail as they've proven so many times now. When normalcy is restored they will continue one of the world's biggest stadium replacement programmes if not the single most impressive.
Only this year three major teams left their old/temporary stadiums for newly built arenas: Beşiktaş, Sivasspor and Eskişehirspor. They follow similar projects in Antalya, Mersin, Konya and many others. So far we've only shown you Beşiktaş of the three stadiums delivered this year. Now we're making it up with Sivas and Eskişehir as two further stadiums await opening in Trabzon and Gaziantep.
The two newly opened stadiums come joined by Osmanlispor's current and future stadia, as the team has just reached Europa League knock-out stage. And finally, the fifth and smallest stadium added overnight is the one in Gümüşhane. It's a modest second league ground, but just you look at these mountains! Find the latest five StadiumDB additions below: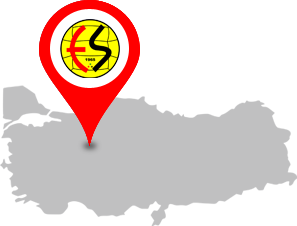 New stadium for Eskişehirspor was planned in the western outskirts of the city, thus forcing football games from the centrally-located Atatürk Stadium, now earmarked for new non-sporting development. Interestingly, "Es-Es" fans intend to call the new stadium as they did the old, which they highlighted with a black Atatürk Stadyumu banner unveiled outside the new stadium several days before it opened on November 21.
The stadium's concept was created in the renowned office of Bahadir Kul, where the idea of a stadium inspired by dynamic movement of a football was created. While looking very dynamically in renderings, the vision lost a lot of its fluency during construction.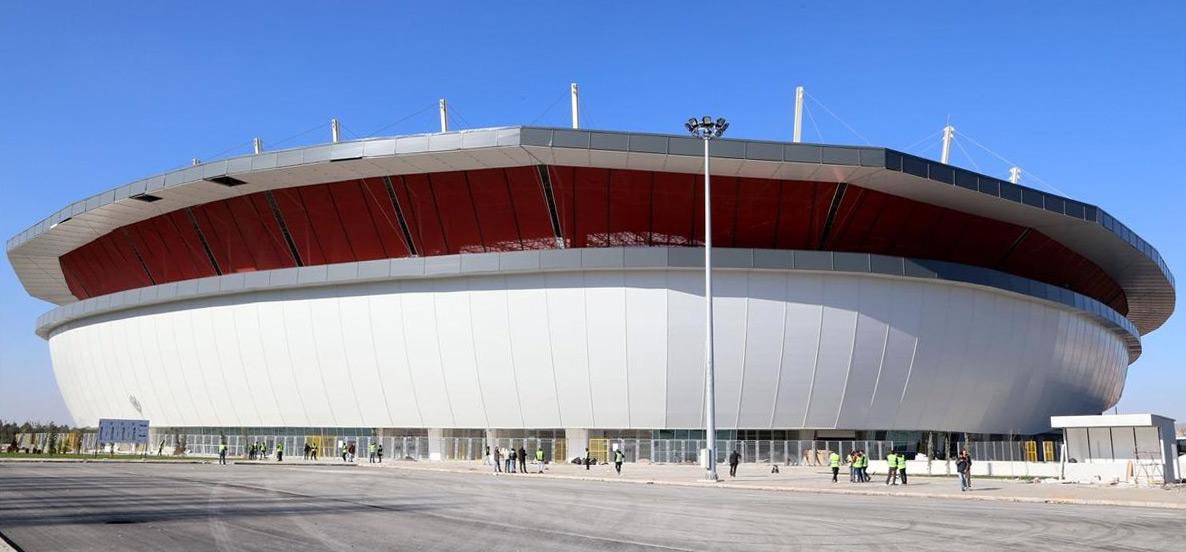 Not as gentle as the idea, the actual stadium still manages to retain originality. Its southern façade is white and opaque, but the stadium reveals some of its interior towards the north with extensive use of glass. Between the stands and vast roof a thick red mesh was installed to add club colours during both day and night. If this doesn't aid in creating proper atmosphere, at least we know that "Es-Es" fans actually don't need help, as they proved while 'baptizing' their new home:
Works were due for launch in 2012 but procedures took longer than planned and contractors eventually entered the site in spring of 2013. Expected delivery date was set at 2015 but, again, delays were seen. Eventually the building was opened in late November 2016 and even then wasn't entirely ready, also seeing criticism over compromised quality of the field and furnishings. Its price rose from TRY 107 million to 130 million so far ($38m).
Double-tiered stands were designed with 33,000 people in mind. Interestingly, skyboxes are placed on both sides of the field rather than the usual west where most of the hospitality areas are usually located. There are three restaurants at the stadium while a nearly 13,000-square-meter parking hidden beneath the stands.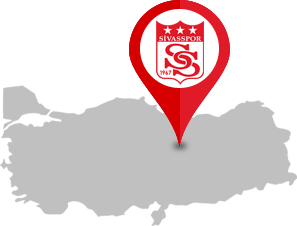 Though supporters of Sivasspor commonly refer to it as the "new September 4 Stadium", this modern stadium has nothing in common with good old 4 Eylül Stadyumu 2km further into the center of Sivas. The new stadium was built in south-western part of the city, on over 130,000 m2 of space for both the stadium and adjacent parking.
The stadium's concept was created by Bahadir Kul Architecture, who focused on making the stadium climate-proof. Sivas is considerably cold, dry and windy, thus the fully opaque outer skin that reduces impact of cold northern wind. In fact the north side has double skin with air cushion between them used as insulation. In the summer perforations are opened between both layers, allowing warm air to circulate. This way temperature and ventilation are controlled to certain extent.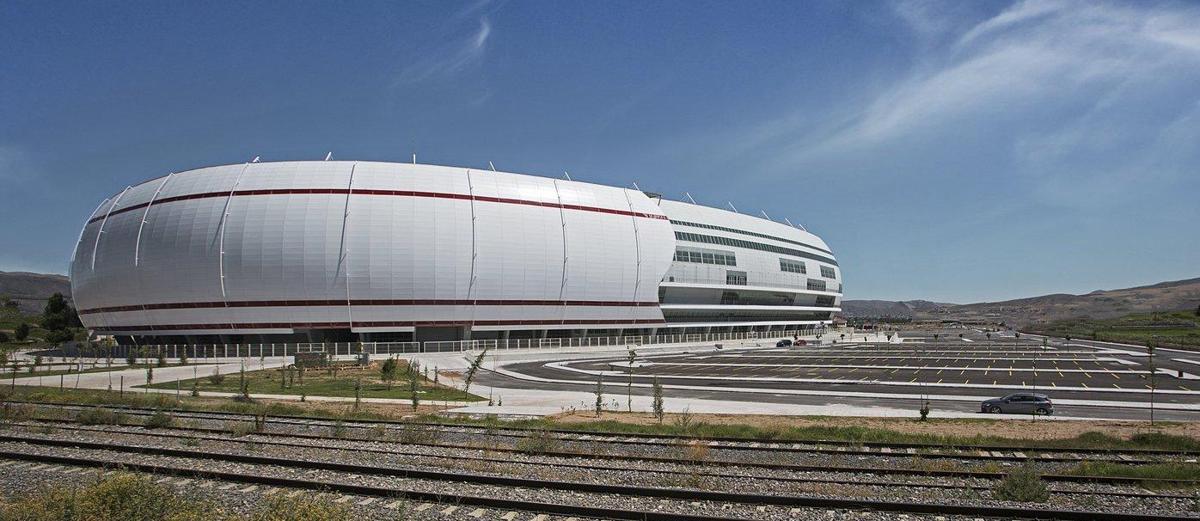 Along the east and west sides the stadium has significant glazing to provide sunlight access and raise temperature inside the stadium, also reducing heating cost. The southern part of Sivas Arena's roof has photovoltaic panels installed, expected to produce 798 kW of clean energy daily, equivalent to the consumption of some 160 houses. Additionally, the roof collect rainwater and snow for use within the stadium.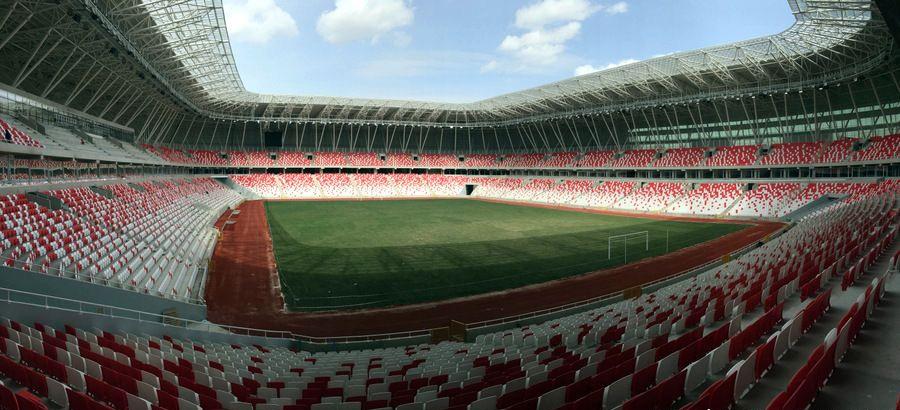 The seating capacity was initially set at 27,000+ but the upper level has some space available for expansion. Along initial concept, up to 6 rows could be added, putting the venue well above 30,000. However amended roof structure reduced the amount of room.
Complete floor space of the stadium is 58,700 m2 spread across 5 floors, one below ground level and four above it. Seeing the extent of works it can be said that the stadium's price was low. It was contracted for TRY 82 million ($27m). Unfortunately construction took much longer than expected, lasting well over 1,100 days, a year behind the initial 800-day deadline.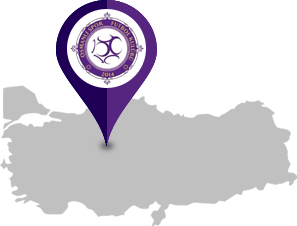 It's not only a western outskirt of Ankara, back in 1974 the stadium in Sincan was built almost in the middle of nowhere, surrounded with farmlands. Its role grew when the current stands were built in 2005, able to hold almost 20,000 people.
In 2014, after establishment of Osmanlispor, the stadium was upgraded to match the club's aspirations. New seats, 20 private boxes in the west stand, but above all brand new membrane roof led to significant improvement and made the building compliant with international regulations.
Still, the seating layout was created for athletics rather than football, which together with remote location makes the stadium unattractive in the long term. Osmanlispor are expected to relocate to 06 Arena in 2018.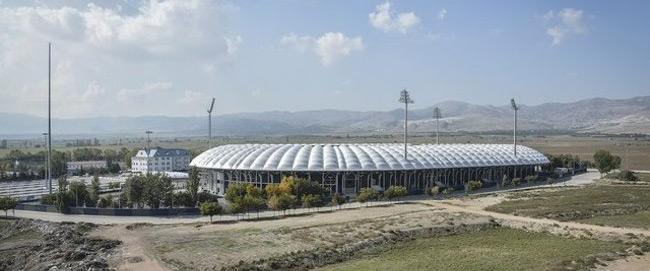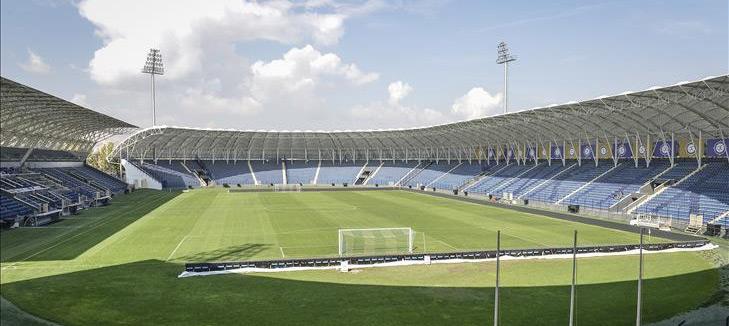 06 Arena, Ankara (20,000)
This robust football-specific stadium for Osmanlispor will open in western district of Eryaman in 2018. Its location earned it the temporary name of Eryaman Stadi, though the concept itself was called 06 Arena.
Located across 62,255 m2 of land, the stadium will operate just meters outside local subway station, assuring convenient access to supporters. The stadium itself will cover 37,765 m2, providing regular infrastructure for tenants, players and hospitality areas (with 42 boxes), but is also expected to host a mosque among other secondary uses.
Rising to 22 meters, the simple bowl will be wrapped with decorative membrane. Due to natural land slope the west side will have two underground floors, which will be on ground level in the east. This way additional commercial outlets can be created in the east.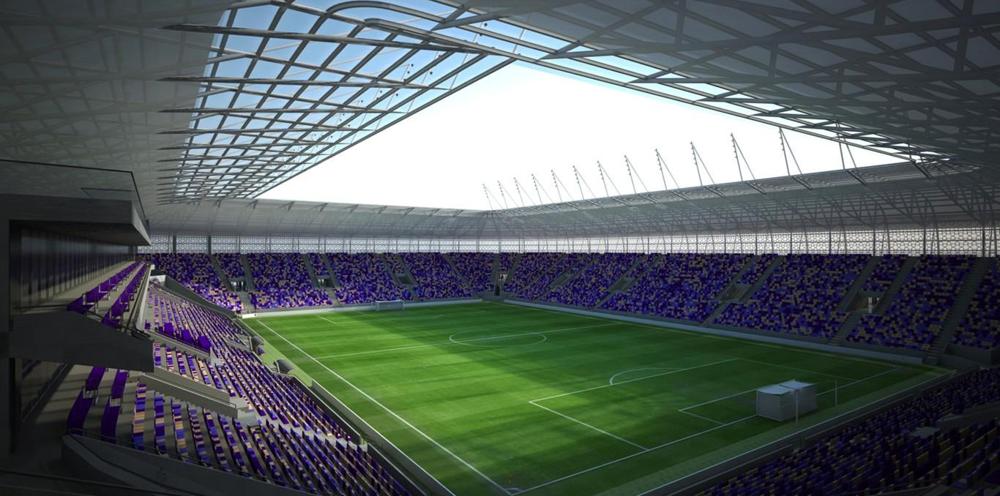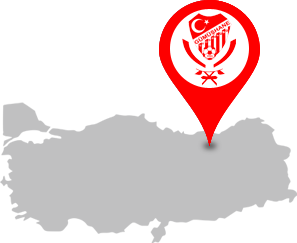 Gümüşhane may be a town in the Black Sea area of north-eastern Turkey, but whichever way you look there are only mountains in sight. So much so that the best viable site for a stadium was actually located outside the administrative limits of the town.
Here, between rocky hills, road and small river lies the small municipal stadium with two grandstands and a floodlit training field.