London: Part of London Stadium's price inflation explained
source: BT.com / Mirror.co.uk; author: michał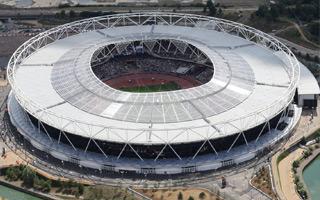 LLDC chief executive testified to explain the recent £51 million hike in conversion cost of London Stadium. David Goldstone remains convinced that the stadium is a great venue for all its purposes.
Just over a month ago it was revealed that London Stadium conversion to football-specific would cost £323 million, instead of previously reported £272 million. This caused mayor Sadiq Khan to request an investigation, calling Boris Johnson's handling of the project messy.
During his Wednesday testimony in front of the London Assembly chief executive of London Legacy Development Corporation (LLDC) David Goldstone explained how the spike in construction cost happened. The largest chunk, £21 million, had to be added as one of contractors for the retractable seating went bankrupt just before last year's Rugby World Cup.
"That happened just before the Rugby World Cup last summer, so an inopportune moment, and effectively in the efforts of installing the new seating system the contractor failed and were unable to meet the requirements of the contract. We were left with a partially-installed system with a Rugby World Cup imminent and very large crowds and very high profile, so (we) had to step in and make it ready for that event", Goldstone said.
© TheBallisRound.co.uk
"It was only really for this summer's season we were able to do the first moves with the fully-installed system and understand what that would involve. […] Issues we have had, starting with the collapse of the appointed contractor in mid-2015, have caused about £21million of that increase."
The next big chunk of £14 million involved aspects such as enhancements to enable bigger concert crowds and of the lighting system as well as improving the "robustness of the pitch" and installing a large screen which could provide potential advertising revenue.
There was also a contingency of £12million which "had to be used for things which happened, but risks that had been anticipated", with another £4million covering insurances and the LLDC's own management costs.
Of course Goldstone's explanation only covers the latest of four price increases. Just for the record, back in 2013 the stadium reconstruction for football use was expected to cost £154 million and then inflated three times to reach the £272 million that got further increased by £51 million this year.
But, according to Goldstone, the stadium overall will prove a great investment in the long term. "I think it is a great multi-use venue. For rugby union, rugby league, football and concerts, I think it has been fantastic for all of those."