Bundesliga: Darmstadt shortlists plots for new stadium
source: StadiumDB.com; author: michał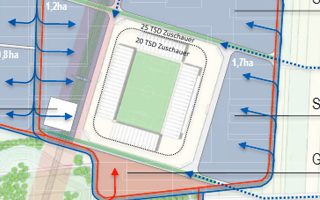 12 different locations were under consideration, now the number is down to 4. All are located west of the city centre, one outside borders. Selection of the best place will come in spring.
As complete reconstruction of Böllenfalltor stadium proved impossible for legal reasons, the municipality of Darmstadt and SV Darmstadt 98 are both looking for land suitable for a brand new building. It may be located both within and outside city limits.
Coordinated analysis by the city, club and Albert Speer + Partner led to selection of 12 plots, 10 within Darmstadt and two just outside. Yesterday a shortlist of 4 were announced, 3 of them in the city.
All of the shortlisted options can be found below with their place on the map, accessibility and master plan. All four sites can host a stadium for 20,000 – 25,000 people, though the access to public transport or amount of parking spaces differ significantly.
Still, Darmstadt mayor assured yesterday there is no preference as of now. All four shortlisted places require detailed analysis, which should be conducted within the next 4-5 months. Then we should know where the new stadium will be built.
Arheilgen-West

Südlich B 26

Eberstadt-West

Gehaborner Hof