Vilnius: Sad end for Žalgirio as Marriott hotel will replace it
source: RussianConstruction.com; author: michał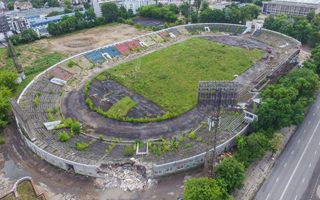 One of Lithuania's most famous stadiums is now history. Žalgirio will be replaced by a new 4-star hotel by mid-2018. Demolition is already ending.
A 4-star hotel, first of the Marriott chain in any of the Baltic countries, should be ready for operation in mid-2018. This follows a franchising contract signed late last week by current Žalgirio Stadionas land owner, developer Hanner.
"Having explored the market, we see that the most popular hotels in Lithuania are four-star ones, their occupancy rate is five-six time higher, than in hotels of a higher category. That is why we decided that this trade mark will suit the local market," Chairman of Hanner Board's of Directors, Arvidas Avulis announced at a press conference on Wednesday.
Žalgirio used to be a Polish stadium in 1920s and became one of Lithuania's most important sports venues following the WWII border change. Since 2011 it was basically unused and after continued deterioration its state was too poor for upgrades.
Demolition of the stadium is now almost complete, having begun in July of this year.