New design: Brand new Swallows' Nest presented
source: Tarnow.pl StadiumDB.com; author: michał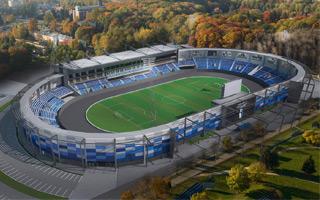 For the first time since 2004 the city of Tarnów has a plan for their dilapidating stadium. The old one was scrapped, what's on the table now?
It's been well over a decade since Tarnów in Lesser Poland had any solid plan for their old main stadium. Footballers of Unia don't need much as they're playing in the 4th league at the moment. But local motorcycle speedway is strong, "the Swallows" are among Poland's largest clubs. Their future stadium scheme was presented earlier today.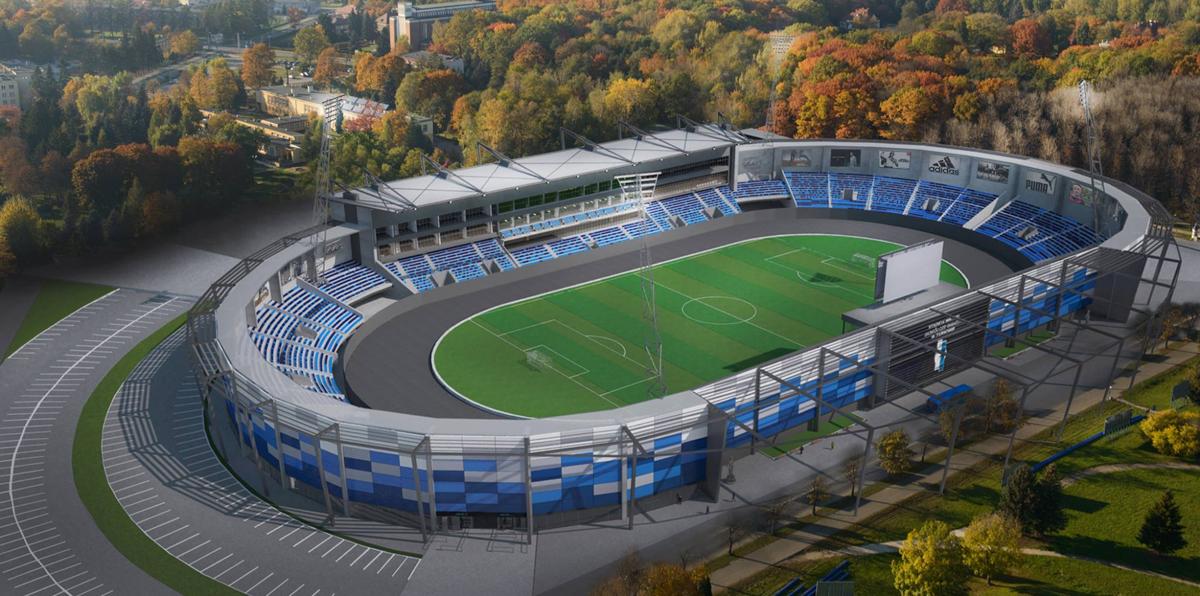 © UM Tarnów
The municipality of Tarnów had previously announced there would be two different concepts drawn for the stadium, with one to be selected by year end. As it turns out, these are only two variants of the same stadium plan, one more expensive and one more economic. The base scheme foresees a roof only over the main stand, while the other one expands the cover also to southern and northern curves.
Why not covering the east stand while you're at it? Well, there will be no east stand. The stadium lies too close to a nearby street for such part of the auditorium to be feasible. That's why the C-shaped stands are expected to accommodate all of 10,000 seats required. The East will only see a TV tower with giant screen on top.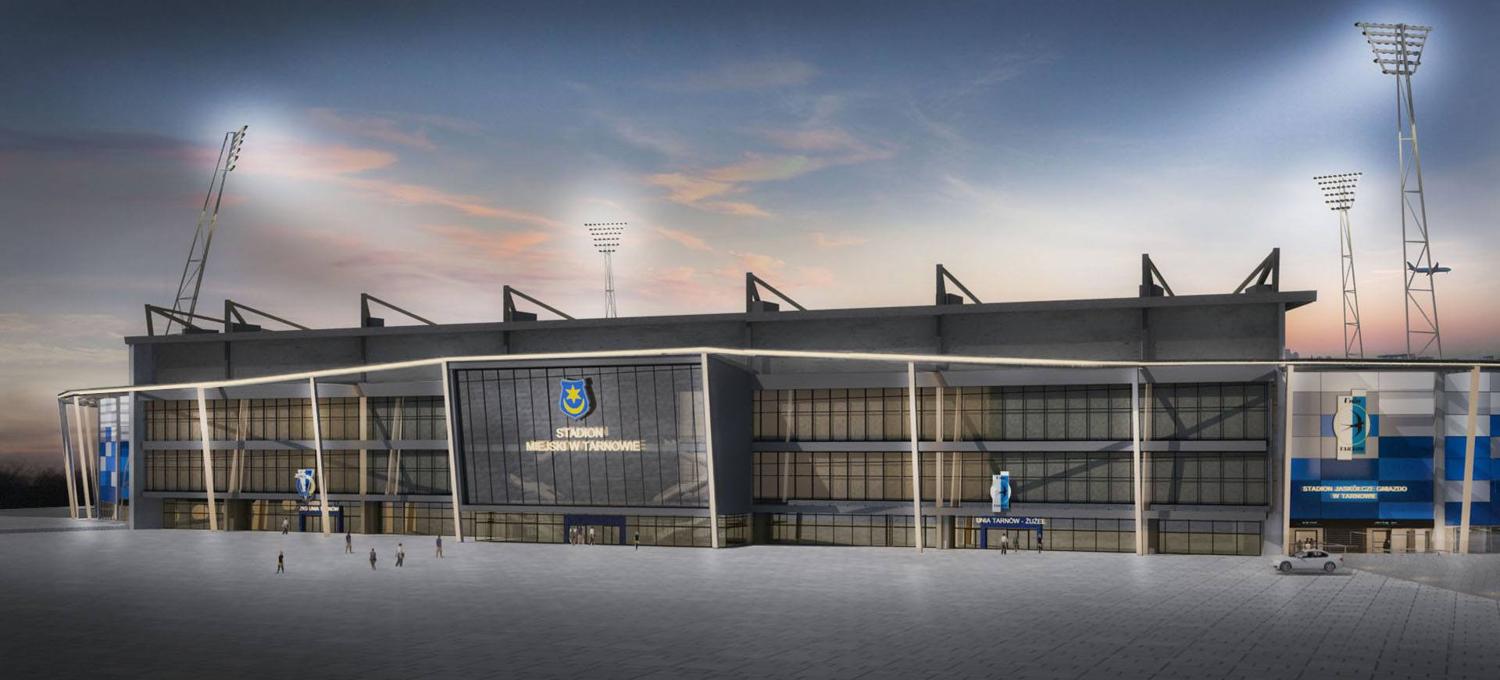 © UM Tarnów
The city hall foresees a large pavilion in the west, built to offer sporting and conference facilities, offices for sport clubs and for rent, two levels of skyboxes and other secondary uses.
On the one hand all current landfill stands would be demolished, but on the other the floodlight masts are to be retained, making it a challenging project. Add to that the tall outer wall surrounding the stadium and it seems tricky to deliver, though not impossible. The planned wall will offer both a more uniform appearance and provide insulation from noise on racing days.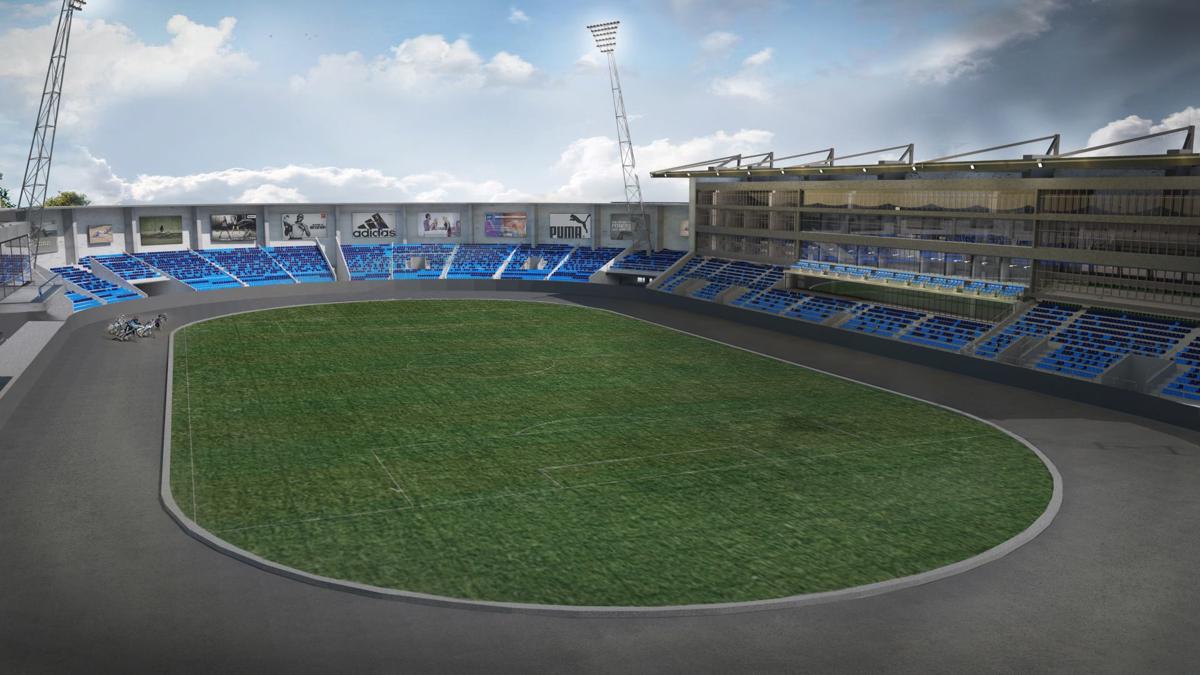 © UM Tarnów
By year end the municipality wants to have a feasibility study, while tender for delivery is expected early next year. Because it would be ran in the "design+build" formula, we shouldn't read too much into the presented renderings as final design is yet to be created based on these guidelines.
Further steps seem unclear at this time. The stadium plan is estimated to consume PLN 50 million ($13m), which seems an optimistic amount compared to the planned infrastructure. Meanwhile the city doesn't even have the required 50 million. It was announced today they would seek external financing, but neither EU funds of the Sports Ministry would be very difficult to get as both these sources have been very unwilling to contribute to professional sport venues in Poland, focusing more on leisure and training complexes.