Liverpool: "We have done the hard bit", says Everton
source: talkSPORT.com; author: michał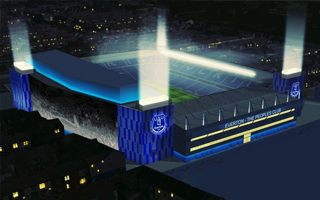 Key shareholder of Everton FC confirmed during today's interview with talkSPORT that the club is committed to a new stadium and fans will be rewarded for their patience.
Farhad Moshiri, who purchased 49.9% of Everton shares earlier this year, assured during interview with talkSPORT that his new club is on the right track for greatness. Of three crucial priorities two are already complete, new stadium is the third one.
"For our club to compete in the north west of England, which is the new Hollywood of football with Guardiola, Mourinho and Klopp, we needed a star to stand on the touchline so we got Koeman. We needed to have a strong balance sheet so I have paid the debts so we have a very strong balance sheet, we are very flexible financially. And we need a big stadium, there is no question about it," Moshiti said.
While there are no solid details about the planned stadium, Moshiri confirmed he had visited the two plots considered. His tour with mayor Joe Anderson took place in October.
"With the stadium, the fans must know we have done the hard bit. We have repaid the debts, we are free to do what we want, and we have the finances to do it. I went to Liverpool a few weeks ago with Bill. We visited all the sites with the Mayor. The club has taken sounding from the fans and, in our mind, we know where to go. We are committed. I can reassure fans they will have a stadium that rewards their loyalty and their passion for the club. That is my key aim.", the owner confirmed, reassuring supporters that this time they will finally see it built, not end with renderings.
All indications suggest that the new 50,000-55,000 stadium will be built in Bramley Moore Dock, north of the city centre. But, despite paying off the club's debts, Moshiri sees some potential issues with the project's financing.
"It is not the same as when Chelsea and Manchester City began their projects, which was before Financial Fair Play. We can only invest what we made last season, plus £7million. The way to compete is to build a big stadium, to increase our merchandising and commercial income. That is what we will do."
Until Everton deliver their big dream, a much smaller one is being done. As seen in the below rendering, by the end of this season Goodison Park will get a visual improvement for the next 2-4 seasons, depending on how long the new stadium takes.