Albania: Terrorist attack thwarted ahead of Albania – Israel
source: TimesofIsrael.com / BalkanInsight.com / other; author: michał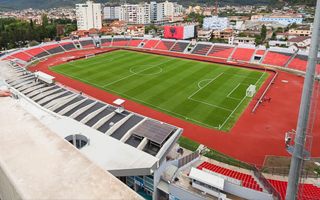 Series of arrest in Albania, Kosovo and Macedonia disabled what's believed to be planned terrorist attack against Israel's national team.
Leaks about this anti-terrorist action were surfacing for the last 11 days, but now we have more details. As it turns out, a terrorist cell connected to ISIS was planning an attack on the day of Israel's away game in Albania this past Saturday (12/11).
Even before the game it was clear that security measures were tightened as much as possible: the location was changed from Shkodra to Elbasan (photo of Elbasan Arena below), access routes to the stadium were sealed off hours before the game, some 2,000 officers were deployed around the stadium, including a helicopter and snipers.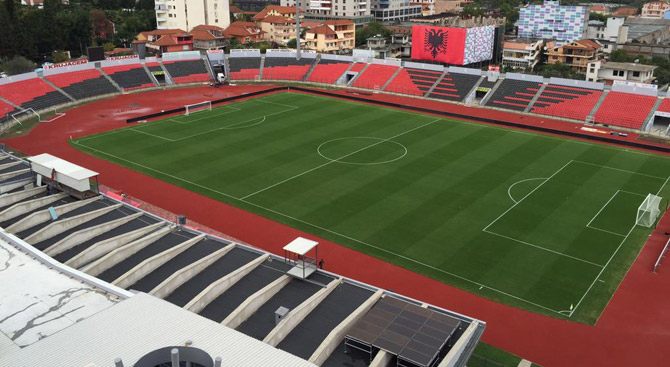 This was only part of a much larger campaign by Albanian, Kosovan, Macedonian and Israeli forces to thwart a series of "coordinated attacks" in Albania and Kosovo. In total 19 men were arrested (as of 17/11), including the above-mentioned cell of 7 people reportedly planning the stadium attack.
At least two of those arrested have recently returned from Syria, where they were fighting for ISIS. Machine guns, ammunition, explosives and a drone were seized, though it's not confirmed which of these were to be used and in what way exactly.
It's estimated that at least a couple dozen ISIS operatives are still at large in the three Balkan countries. Authorities in Albania, Kosovo and Macedonia estimate that well over 500 of their inhabitants had joined ISIS and roughly a fifth are already dead.
This prevented terrorist act is already the second planned at/around a football stadium in just the last month. In October authorities in Saudi Arabia stopped a group who were allegedly planning to use explosives on the day of Saudi Arabia – UAE game in Jeddah.
Interestingly, the Albania – Israel match (ended with 3:0 for Israel) caused a nationwide boycott of national team games by major Albanian supporters groups. Fans are protesting against overzealous approach of the police.
As they claim, it's not about refusing to accept the risk from terrorist actions, it's about prolonged abuse of power by officers on matchdays, dating back to 2015. Organisations like the Red and Blacks (over 5,000 registered members) accuse officers of being too strict, violent and abusive when policing games.