New stadiums: Football in the land of ice
source: StadiumDB.com; author: michał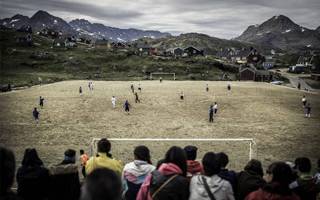 It's hard to believe that someone would play football in a place as inhospitable as this. But Greenland has a national team, over 70 clubs and 5,000 players. Without even one regular field!
Today for the first time we're making an exception like this: adding a new territory that isn't associated in neither a continental federation or FIFA. Or at least isn't associated yet. Greenland is unique for its political and sporting circumstances. Not recognized as a country, it's an autonomous part of Denmark and part of that autonomy is having an independent football governing body, the GBU.
In recent years there have been efforts for Greenland to join either UEFA (due to its ties with Denmark) or CONCACAF (for geographic reasons). Once this is accomplished, the way for FIFA affiliation would be open. However nothing is certain at this point, leaving the Greenlandic national team with secondary competitions, for non-recognised teams.
With or without international recognition, football in Greenland is a story worth diving deep into. Majority of the country is north of the Arctic Circle and there's simply no way of maintaining a natural turf.
That's why for decades football has been played here on dirt. And yet it flourished with one in ten inhabitants now playing it (5,000 registered players) and a football league running since 1958. Sure, it operates as a series of local tournaments due to huge distances, but it's a league all the same.
The single first grass field, of course synthetic, was installed here in 2009 (in the town of Qaqartoq) with FIFA's financial aid, prompting hopes for affiliation. Now the goal is for each of the four regions to have at least one of these and the second one installed is now joining StadiumDB as we add the national stadium. Please enjoy the two Greenlandic stadia we have for you. We appreciate these aren't professional, but for once we want to embrace the brilliant football passion of Greenland!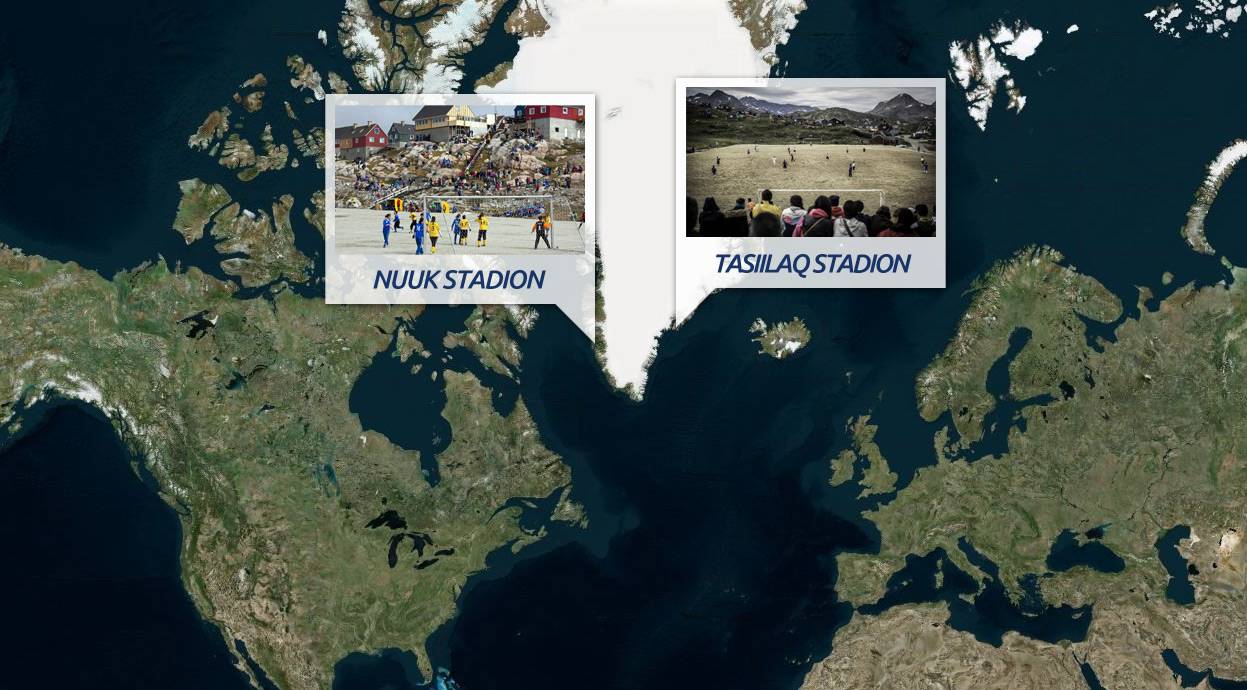 Formally they aren't an internationally recognised country nor is their football federation a member of FIFA. But that doesn't stop Greenland from having their national stadium in the capital of Nuuk. It's placed in the town's only sports complex and has an almost international-standard field of 100x70m. In 2016 the field received its first ever grass surface (synthetic).
The stadium is supported by an indoor hall to the north and small training field to the south. Along the sides, on rocky hillsides, around 2,000 spectators can be accommodated.
The town's only field is used by numerous teams, including roughly half of the country's football league, including the most honoured teams. In 2010 a plan was drawn to cover the stadium with permanent roof, but it's yet to be implemented.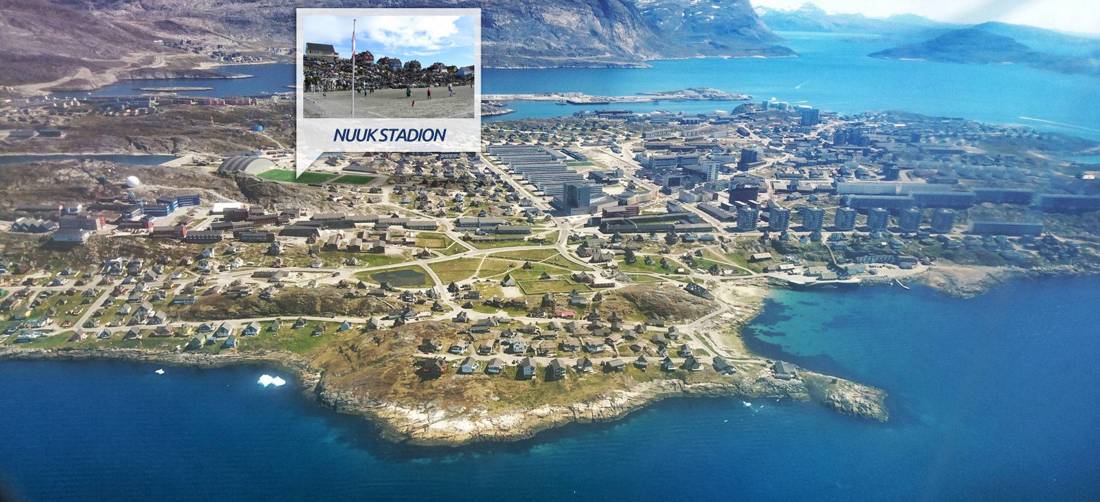 Photo: Hakim A. (cc: by-nc-nd)
© Visit Greenland
Built in 1960, the only football field in the eastern town of Tasiilaq never reached full international size or received actual grass surface. Still, with dimensions of 90x65 meters it's the single largest piece of flattened land in this volcanic area. In fact, in absence of regular terracing, spectators usually occupy nearby rocks during games. The host team ATA 1960 trains various age groups of both sexes.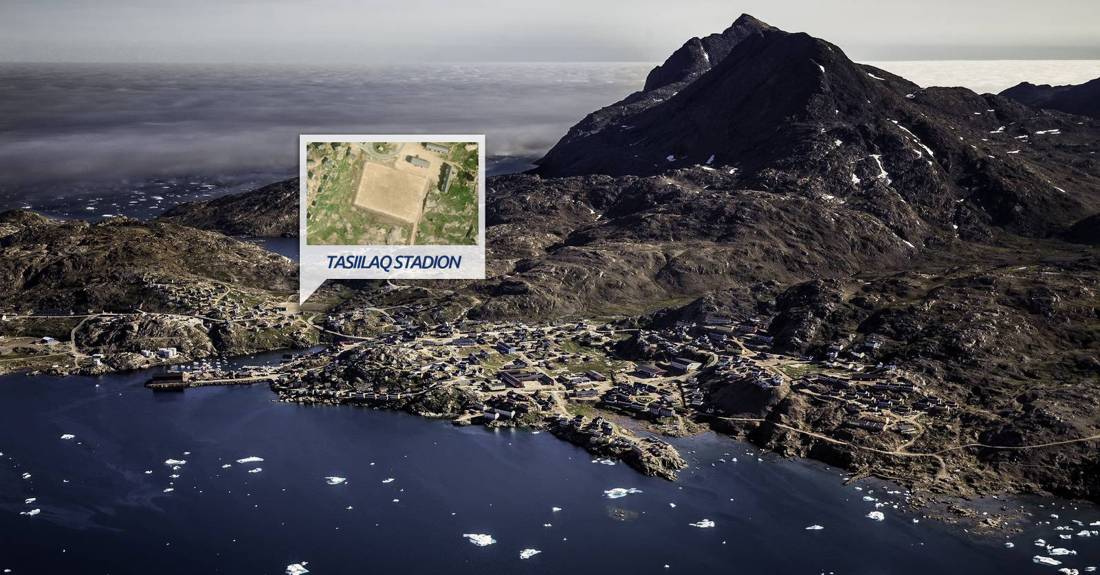 © Visit Greenland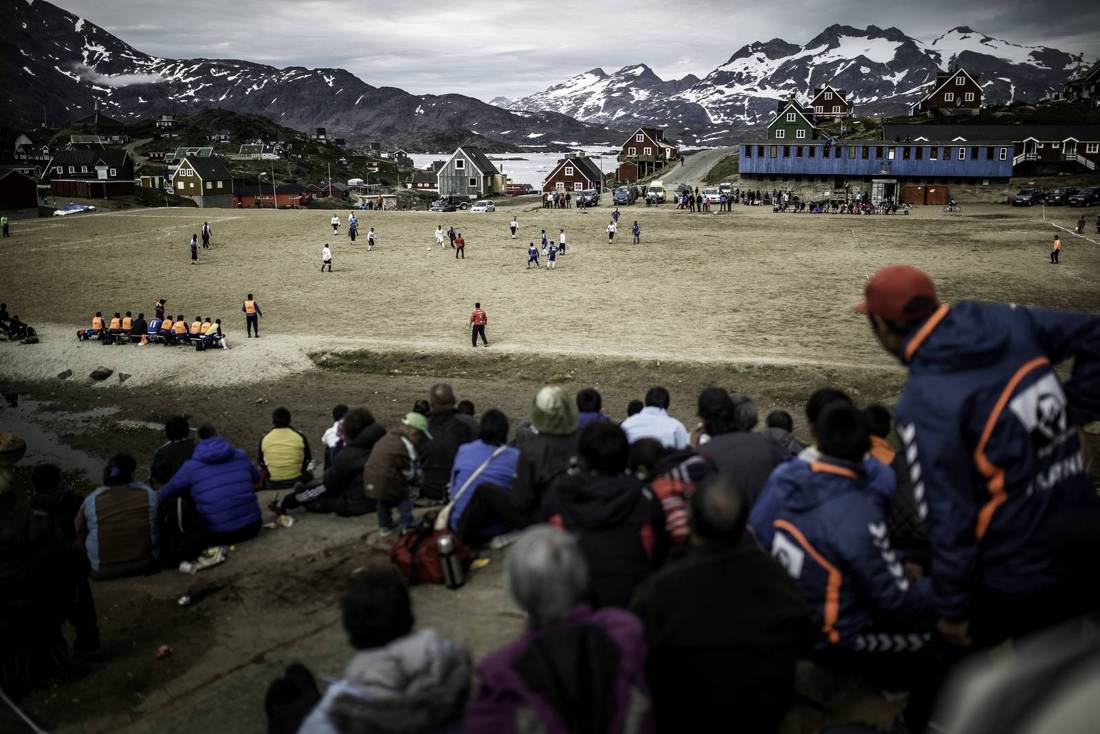 © Visit Greenland