Belo Horizonte: Galo downsizing their stadium plan by 40%
source: Globo.com / oChute.com.br / oTempo.com.br; author: michał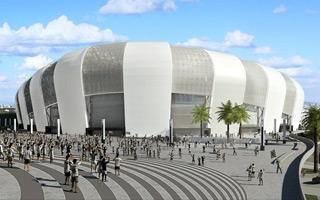 Lower capacity, without planned convention center and with smaller underground parking. The new stadium of Atletico Mineiro will be much cheaper than planned.
One of Brazil's most popular clubs, Atletico Mineiro, recently gave an update on their planned new stadium. The most anticipated information is of course groundbreaking time, but for that we have to wait several weeks, perhaps even months.
Stadium architect Bernardo Farkasvölgyi revealed that Atletico Mineiro are hopeful of getting a public hearing about the stadium scheme in October, maybe early November. The goal is to push the stadium documentation through the city hall by April 2017 and get a green light for construction.
What will be built may differ significantly from currently available renderings as it was reported the stadium budget was cut by 40%. This means a reduction from BRL 500-530 million ($170m) to BRL 320 million ($105m).
Getting there means reduction in capacity from 50,060 to roughly 42,000 and downscaling of the multi-level parking from 4,600 to 3,300 cars. Convention and exhibition center planned beside the stadium (28,000 m2) won't be built at all, apparently, as the club is still seeking private investors willing to participate in the project.