New lists: Who got 4 and 5 stars from UEFA?
source: StadiumDB.com; author: michał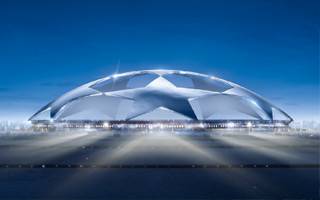 It's only 38 stadiums in total across Europe, so the two lists are truly exclusive. Check out who was granted a 4 or 5-star note by UEFA and why we're showing these lists to you now…
If we got a dollar for every time someone asked us which stadiums can bid for Champions League or Europa League finals, we'd have a drone to shoot brilliant stadium aerials for you. A very cheap drone, probably used, but you surely get the message: we all want to know which stadiums are up to the challenge of hosting two biggest club games in Europe.
Unfortunately the last lists released by UEFA were accurate as of early 2007. Afterwards the 4 and 5 stars were no longer in use and the entire rating system is now obsolete, changed twice since then. Under the rule of Michel Platini UEFA stopped releasing such lists, evaluating each cup final bidder along internal criteria. The general ones have been loosened and currently the highest stadium category (Cat. 4) requires just 8,000 seats.
UEFA denies a new list exists
We thus decided to ask UEFA if they could provide us with an updated list of stadiums able to host the European cup finals. In return we were informed that "there is no such list" and that was literally the end of discussion. It was of no help that we quoted several stadium operators who claimed to be on such list, no response for quite some time and it wasn't the first attempt too.
Back to the old lists then...
We thus decided to remind everyone how UEFA used to do this right in the past. Maybe with new president Aleksander Čeferin the organisation will again become more transparent in such issues of high interest. Surely one can provide a basic list of possible host venues…
For the time being we're reminding everyone which stadiums were regarded as the best in Europe in early 2007. The two lists present 5-star stadia (25 in total) and 4-star stadia (13 in total) of 2006.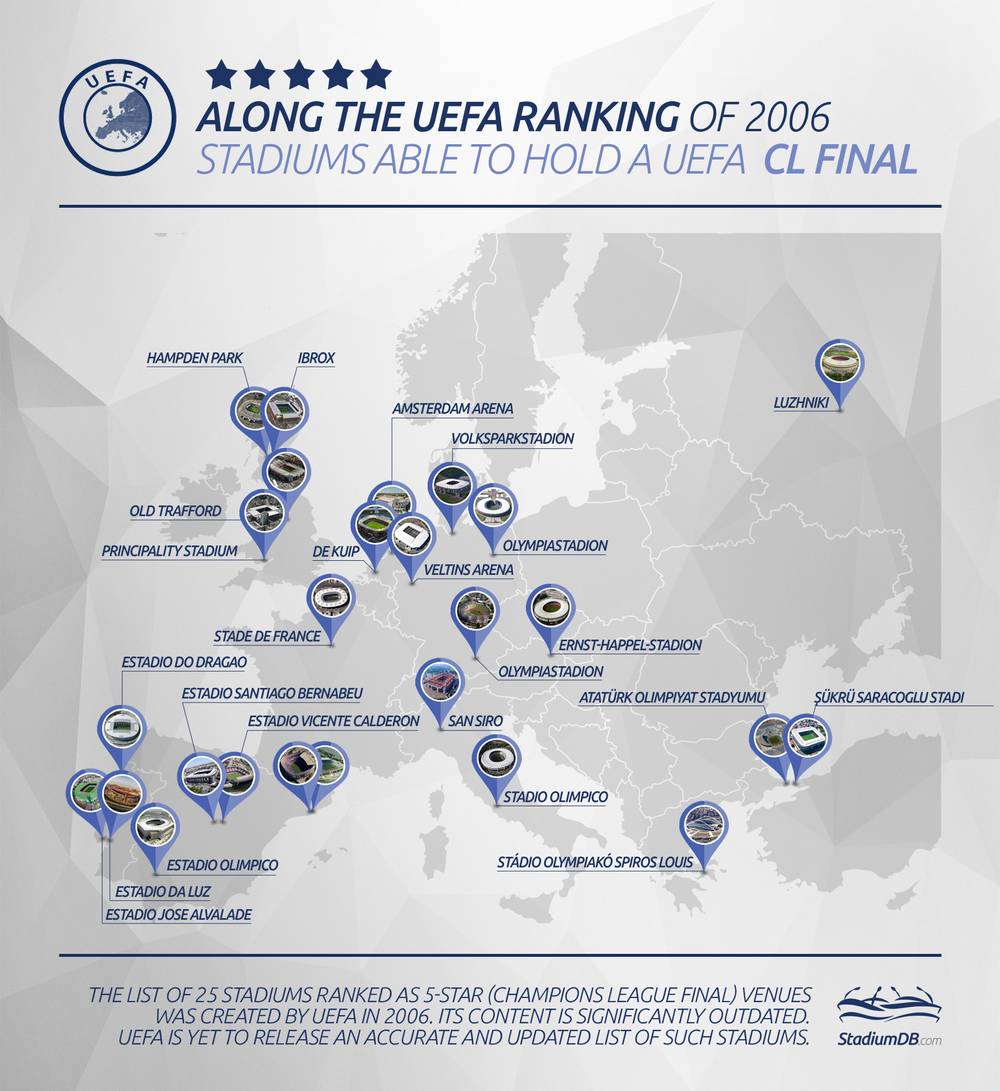 Are these up-to-date? Absolutely not, by definition these two lists are outdated, even if most of the listed stadiums could still apply to hold a European final. But neither of the lists includes stadia opened after 2006 or those that haven't applied at the time and were thus not certified. Since 2006 the capacity criterion went up from 30,000 to 40,000 for Europa League final and from 50,000 to 60,000 for Champions League final. And one of the listed stadiums from 2006 has been demolished since…
But with all the above said, lack of precise and updated information isn't really our fault. In fact, we decided to publish the outdated lists as a beginning for further work. In the near future we'll publish a current list as well. If UEFA continues to provide no help, we'll combine these ourselves based on our best knowledge. You may expect such update by early October and before that one more exciting list will be released!