London: West Ham's pattern of own goals
source: @HenryWinter / Standard.co.uk / NewhamRecorder.co.uk; author: michał
Won only one game and are in relegation zone. But don't mind Premier League, West Ham are doing even worse with their fans recently, only adding fuel to already big fire.
Pre-inauguration in Europa League was encouraging, even if West Ham then lost to fairly unknown Romanian Astra Giurgiu and left the tournament. The opening Premier League game against Bournemouth was a win, but so far it's the single game of the season WHU have won. A series of 5 losses is extremely troubling for fans, even if only 2 of them happened at home.
All seats at London Stadium are still sold out, but the atmosphere is getting more and more intense. Yesterday 3,000 Southampton fans were able to outshout the home crowd as many WHU fans were leaving before full time, sparing themselves the pain of seeing Saints' third goal in the 90th minute.
But even worse than the results on the field, off the field the club is failing its fans miserably, scoring own goals that should never happen to a club of that magnitude and in such a delicate situation, after controversial relocation to London Stadium.
Customers, not supporters?
Perhaps the loudest criticism of West Ham's stadium shift is that accusing the club of only taking financial gains into account. New, sterile atmosphere inside clearly isn't helping as actual brawls broke out during the Watford game on Sept 10. West Ham is having great difficulty in building an identity for the new stadium and one thing they should never do is calling supporters customers.
And yet that's exactly what happened ahead of yesterday's Southampton game as instructions for stewards were leaked (both written and spoken), referring to fans precisely as customers. In England, where the slogan "supporters, not customers" is perhaps louder than ever before, this gaffe caused true outrage. You can almost miss the instruction to force fans to sit if they obstruct the views of richest VIP customers.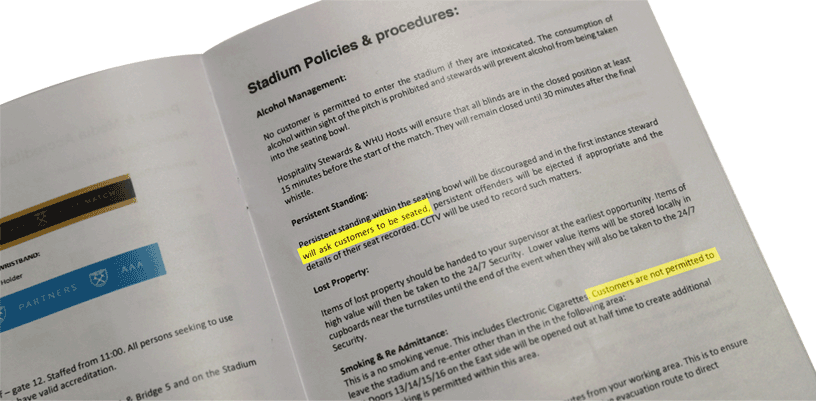 Abandoned memorial garden
A week ago media headlines worldwide showed explosions at Upton Park. Scenes causing heartache among West Ham United fans were part of an action movie set at the stadium. But at the same time a much worse sight went unnoticed globally and only got local coverage.
Years ago West Ham created a memorial garden beside Upton Park, for fans to place plaques commemorating their loved ones or drop their ashes. There's hardly a bigger sign of love for a football club than asking for one's resting place to be its stadium. The club assured they would take care of the garden, even agreeing with developer Galliard in 2014 that the memorial garden would not be destroyed after Upton Park is converted into a residential estate.
The more outraged were many WHU supporters as they noticed how poorly the memorial garden was maintained. Or, in fact, not maintained at all. As published by London Evening Standard and the Newham Recorder, photos show what seems more like a dump than a garden, let alone a memorial garden. Another thing West Ham should have taken care of, especially as they're in a true identity crisis already. And they did, but not before being reminded by the media…