London: Council again backs Plough Lane stadium
source: YourLocalGuardian.co.uk; author: michał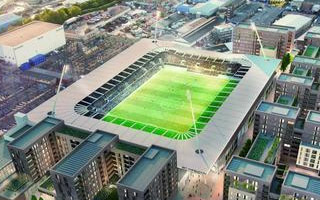 Merton Council has formally renewed its support of the decision to allow AFC Wimbledon to build a stadium on Plough Lane. Your Local Guardian report.
The Merton Council planning committee met on Thursday, September 15, for the first time since the Mayor of London, Sadiq Khan, announced his plan to 'hand back' the power to make a decision about the stadium to Merton Council last month.
The committee unanimously approved the plans to build a 20,000-seater stadium – beginning as 11,000 – as well as a range of flats and amenities in December 2015. This is already the second time that Merton gave a green light to this project.
Another decision was required due to former mayor Boris Johnson's decision to revise the Plough Lane scheme. His successor Sadiq Khan decided no such step should be taken and thus gave the final call to the local council. With planning permission now confirmed, AFC Wimbledon's new stadium may go forward.