London: Wimbledon plans suffer serious blow
source: AFCWimbledon.co.uk; author: michał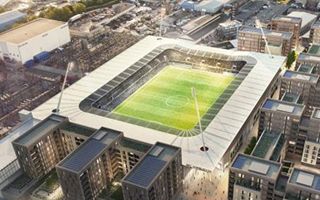 AFC Wimbledon's stadium campaign has just suffered from another major setback. Groundbreaking might not happen this year after mayor ordered the plan to be re-evaluated.
It's been an uphill struggle for years after Wimbledon's rebirth in 2002. The club finally drew a plan to return to their spiritual home at Plough Lane in 2014, foreseeing a brand new stadium in which they could prosper.
Initially the Dons were hopeful to see groundbreaking already in 2015. But even when the planning permission arrived from Merton Council in December last year, there was clear joy and relief that it's finally going to happen.

The very last stamp on the plan was expected yesterday from Mayor Boris Johnson. But he unexpectedly "called in" the project for re-evaluation. "We understand that this is because the development is seen as being of strategic importance to the area." AFC Wimbledon wrote in a statement.
Johnson's decision is even more painful because he won't be able to run the proceedings himself. There's an election upcoming in May and that means that the new mayor won't be able to take up the application until July.
AFC Wimbledon Chief Executive Erik Samuelson said: "We are disappointed that the application has not been approved today. We will immediately set about understanding the detailed reasons for the Mayor's decision. While this is a setback, the story is not over. We have made a very strong case for the application and we will do so again. We remain confident that we will be successful, albeit after some delay to our aspirations."