Germany: RB Leipzig to consider new stadium sooner?
source: Sportal.de / Bild.de; author: michał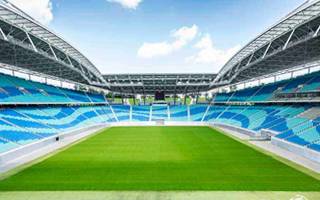 Every game they could sell 10-12,000 tickets more than Red Bull Arena allows. The fresh Bundesliga "franchise" might require a larger stadium soon if they succeed in the league.
Sure, the Bundesliga has been on for just three weeks, but who would have seen RB Leipzig near the top of the table? In terms of attendance they're a medium-sized team at best, though it's quite clear that the first games could have enjoyed a far greater turnout if not for the stadium size.
So far the only home game of the season at Red Bull Arena was against Borussia Dortmund, drawing 42,558 people. The next one is upcoming this weekend when the other Borussia is coming to Leipzig. It's already sold out, even the away section. Borussia fans were considering a boycott of the despised energy drink team, but decided to come and in turn stand quietly for part of the game.

With 5,000 away following, the stadium will again be full to capacity and demand is far greater than just the 43,000-44,000 on offer.
"We believe that in the medium term this capacity is insufficient. As we sometimes say, we could sell 10,000-12,000 more tickets per game. That's real money that could be invested in sport", said RB Leipzig CEO Oliver Mintzlaff.
It's no secret that RB are thinking of a greater stadium and expansion of Red Bull Arena is highly improbable. As confirmed by Mintzlaff, the building isn't and is unlikely to become Red Bull's property. Instead, the team is considering a new state-of-the-art facility with up to 70,000 capacity. It's price is estimated to be no less than €300 million.