Portland: Timbers hoping to expand stadium
source: OregonLive.com; author: michał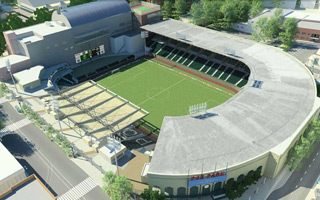 With season ticket waiting list already 13,000-name long (!) Portland Timbers are considering adding seats to Providence Park. The plan would begin in 2018.
Following the last expansion from 2010 Providence Park holds 21,144 people, making it still one of the smallest in MLS. Much more important than any league comparison, the season ticket demand for Portland Timbers is immense, with 13,000 people already on the waiting list.
It's no wonder then why the club have been examining a possible expansion for months now. First plans surfaced in January and envisaged further 2,000 seats in the south end (open part of the horseshoe layout).
Currently the plan is more ambitious with 3,500 extra seats. Timbers are now working with an architectural firm to determine whether the new plan is both operationally and economically feasible. The Timbers have said in the past that they plan to pay for any renovations done at Providence Park.
To move forward with the plan, the Timbers would need approval from the city. If the new plan does pans out, renovations could not feasibly begin until after the completion of the 2018 season at the earliest, Timbers' President of Business Mike Golub said.
"We're really serious about it," Golub said. "It's just a matter of finding the right design and the right approach, which we think we're potentially honing in on."