Seville: Betis now without the south stand
source: Sevilla.ABC.es / Marca.com; author: michał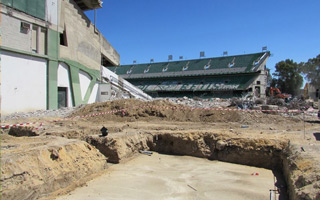 Demolition of the south end of Estadio Benito Villamarin has now ended. Tender for the construction of new one is underway, just like the season-ticket sales, slowly nearing a sell-out.
Fans from the green part of Seville have been waiting for this moment for years. Never-built south end is now closer than ever as the historic old structure has been leveled. After site clearance construction crews will be able to occupy the site at Estadio Benito Villamarin.
Whose crews will they be? We have to wait as the official tenders is nearing to its first major milestone. Announced officially on July 18, the procedure will reveal the number of interested companies on July 22. Then the contenders will be asked to submit their offers until August 8. No specific date for groundbreaking has surfaced so far.
What we do know is that in the 2016/17 season Estadio Benito Villamarin will be nearly sold out week after week. On Monday the number of renewed season tickets reached 35,239, while from now on sales will be open to everyone. While not a record – last year Betis had 39,000 at this point – the club will only have over 43,000 seats available in this La Liga campaign.
El Benito Villamarín en estos momentos #HastaProntoGolSur pic.twitter.com/LIb8ygWPQ1

— Info Real Betis (@InfoBetis26) July 18, 2016