Japan: Godzilla's footprints found in stadium
source: Asahi.com; author: michał
Sure, it's only a publicity stunt. But this field's pattern in Japanese city of Kawasaki is impressive enough to share by all means!
We've seen many interesting field patterns over the years, some of which have taken a long time to prepare, like this one in Utrecht. But for the first time now we're seeing actual footprints being created on the turf. Well, not actual, these are after all prepared by mowing and pressing the grass.
Timing of the idea with Godzilla's immense footprints on the field isn't an accident, of course. The publicity stunt is associated with upcoming premiere of the next monster movie, first one created in Japan in 12 years.
Fans of Kawasaki Frontale and tourists will have a chance to see the giant footprints on July 21-22. Proper view will be available from the sky terrace on the top floor of the new main grandstand of Todoroki Stadium.
During the upcoming Kawasaki Frontale – FC Tokyo game on July 23 the unique pattern might not be visible any more.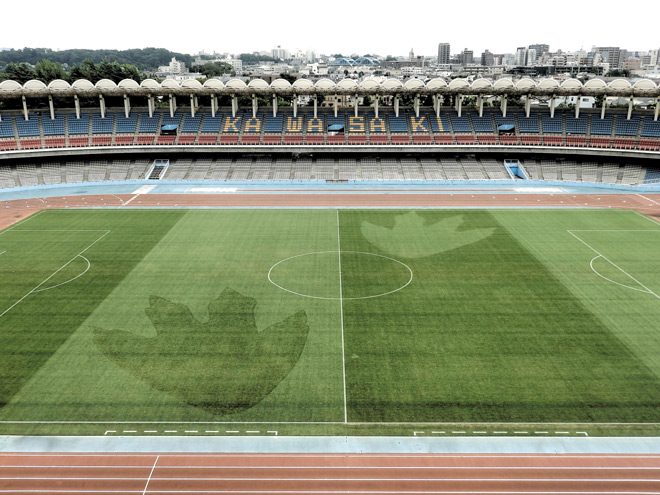 © Takeshi Kawai, Asahi Shimbun