Africa: Ghanaian stadiums going dark for arrears
source: STARRfmonline.com; author: michał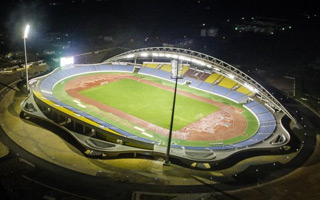 Two major stadiums in Ghana recently had their electricity supply cut off. That unusual measure comes as state-run energy supplier forces debtors to finally pay.
On Tuesday the national stadium of Ghana had its power cut off after the Electricity Company of Ghana (ECG) began to punish long-term debtors with such drastic measures.
The Accra Sports Stadium electricity bills piled up to reach GHC 240,000 ($60,000+) in 2015 and were then divided into a payment plan of 24,000 per month. StadiumDB understands the stadium management company was unable to follow through with this plan, thus the blackout.
"We are hopeful that we will be able to raise the sum required by close of day to restore the power," Public Relations Officer (PRO) of the National Sports Authority, Frederica Mensah-Davies said on Wednesday.
The national stadium in Accra is already the second in recent days to face the consequence of unpaid debt. Ghana's most modern stadium in Cape Coast also had energy cut off in late June with debt of GHC 720,000 ($180,000).
While the ECG power-cutting policy seems drastic to stadium operators, it should be noted that similar issues are faced by much more important facilities, like prisons, police stations or even hospitals.