England: Luton Town submit planning application
source: Luton-Dunstable.co.uk / LutonToday.co.uk; author: michał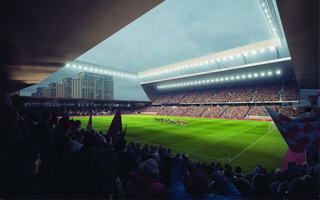 One of the most unique stadiums across the United Kingdom is now officially awaiting approval from local authorities. And Luton assure that Brexit shouldn't impact the scheme at all.
Today Luton Town officially filed their planning application for the construction of new Power Court stadium. Documentation should be available for public viewing online as soon as its processed, later to be evaluated in accordance with the law.
Luton Town are hopeful to receive a green light for this massive development which will see far more than just the football stadium being built. The 17,500-seater (with option of expansion to 22,500) will be surrounded with secondary uses, including offices, residential buildings, supermarket and a concert venue, among others.

For this reason evaluation may require time, but so far reactions have been positive. The Hatters carried out an 8-day public exhibition and according to the club over 90% of the 4,000 visitors were in favour of the proposed scheme. Should everything go as planned, the building will be ready by 2020.
As the plans are filed just days after Britain's crucial Brexit vote, the issue of impact on Luton's plans has been raised. But the club remain calm and determined to carry it out regardless. "We don't believe it has any impact at all on the planning application", said chief executive Gary Sweet.
While his team are already negotiating potential partnerships with tenants for the Power Court project, there's still time until markets calm down following the vote. "Fortunately we don't have to do that this month or this weekend. We've got a little bit of time to do that. Generally, you don't sign up to those agreements until your planning application has been approved anyway."