England: Gillingham FC looking for a new stadium
source: KentOnline.co.uk; author: michał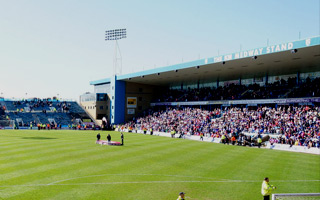 Plans for a new stadium for Gillingham FC have been given the backing of a government minister. Now the club have to work closely with city council to go forward with relocation plans.
Mark Francois, minister for Thames Gateway, met with Medway Council and Gills chairman Paul Scally at Priestfield on Friday, when he saw initial proposals for a new stadium and local regeneration plans. Mr Francois said: "As Kent's only Football League club, Gillingham is a leading light for sport across the county and is now looking to score hundreds of new homes, jobs and businesses too.
In 2014, draft plans were submitted for a new stadium on 40 acres of land at Mill Hill, off Yokosuka Way in Gillingham – about a mile from the existing stadium in Redfern Avenue. In addition to the sports ground, a supermarket and hundreds of homes are proposed for the plot, which is opposite the club's training facilities.
Gills chairman Paul Scally said: "Gillingham Football Club has been examining potential new sites in Medway for over eight years, and has now identified the most appropriate site for a stadium and enabling development based on infrastructure and suitability of site.
"That's why we'll be working closely with the council and local people to make sure we get our final plans right."