New design: Park and skyscrapers above the roof
source: StadiumDB.com; author: michał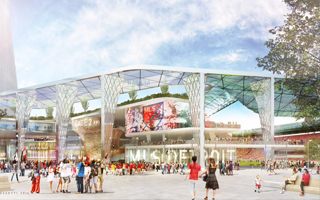 By 2020 professional soccer may arrive in Detroit. If that happens, the home team may use one of the sport's most multifunctional venues.
Detroit has been on the list of potential MLS expansions for some time, though with no actual plan in recent years. Until last week, when it was announced that two billionaires teamed up to bring professional football to Michigan's largest city, the 4-million strong metropolis.
Dan Gilbert and Tom Gores are estimated to be worth $5.4 and $3.3 billion, respectively. They both have a team in NBA (Cavaliers and Pistons) and want to add an MLS franchise to the portfolio. With the entry price in MLS being as high as $100 million, they need more than just a stadium to make it viable.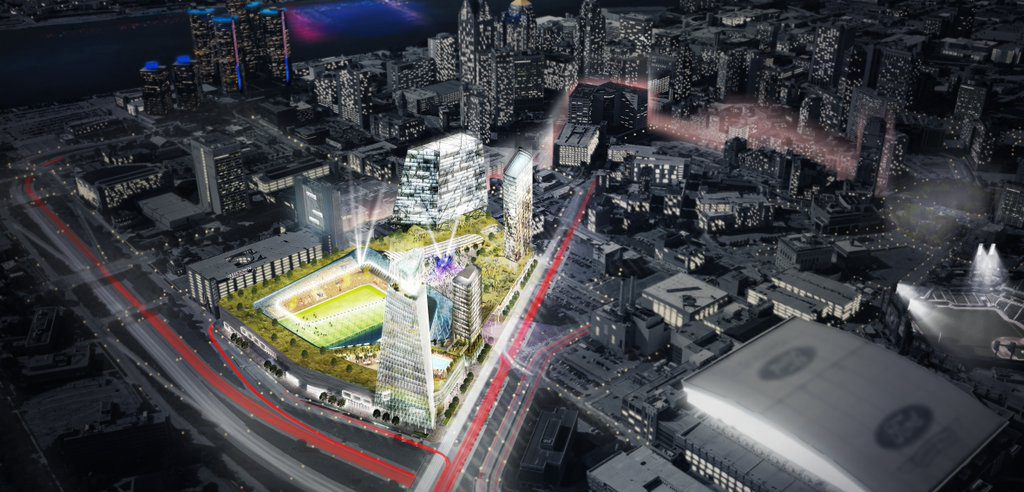 That's why Gilbert and Gores asked renowned office of Matt Rossetti to create a lot more than football/soccer facilities. Outcome, even if only shown in early renderings, is already impressive.
Building on a prison site
The planned development would replace a problematic county jail that is yet to be finished. Wayne County has been stuck with this penitentiary project, which proved beyond its financial capacity.
While there aren't enough resources to deliver this budget-blowing facility and downtown is hardly the desired location for a prison (especially in a city with downtown in need of revitalization like Detroit), Wayne County insist on continuing. They might be persuaded by the billionaires, of course.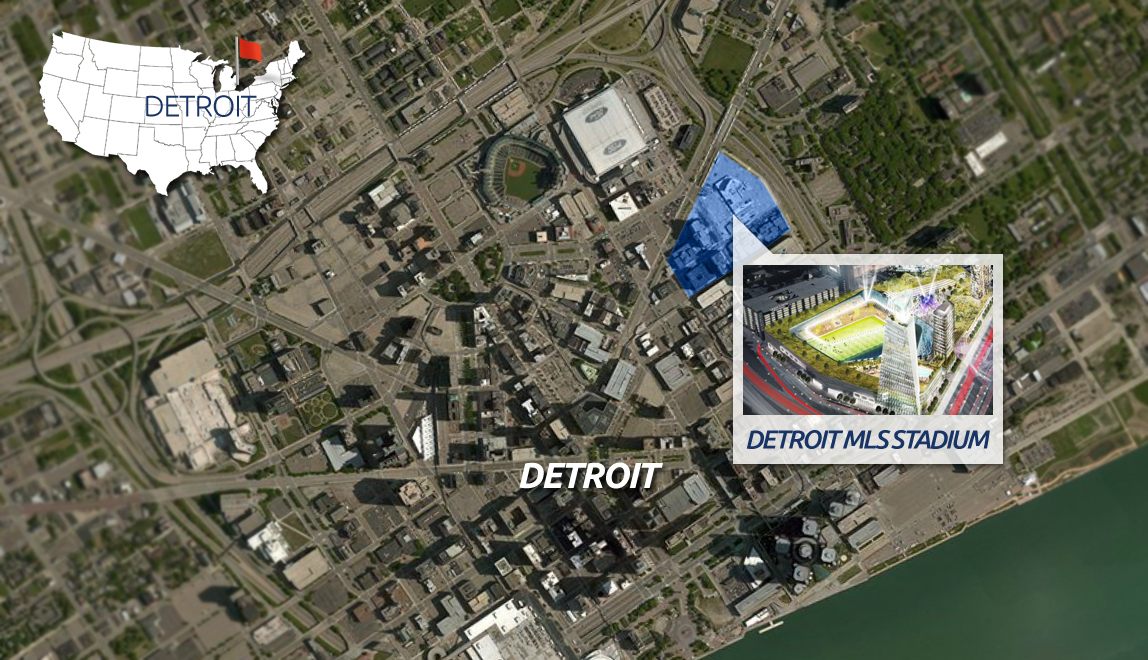 Gilbert had already tried, offering $50 million for the land in 2013, but his offer was rejected. After all, some $150m was already invested in the prison-to-be. now Wayne County is willing to consider, putting an offer on the table: Gilbert and Gores would finance the county jail in a different location and then pay for the land in downtown. They have until late summer to consider and negotiate, because later the county wants to run further works on site.
Turning the prison into leisure hub
Presuming that an agreement is reached and the stadium plan goes forward, what could be built here? The scheme drawn by Rossetti envisages room for a 47,000-square meter stadium with all seats under cover. The stadium would hold 20,000-25,000 people, though the desired size named yesterday is 24,000.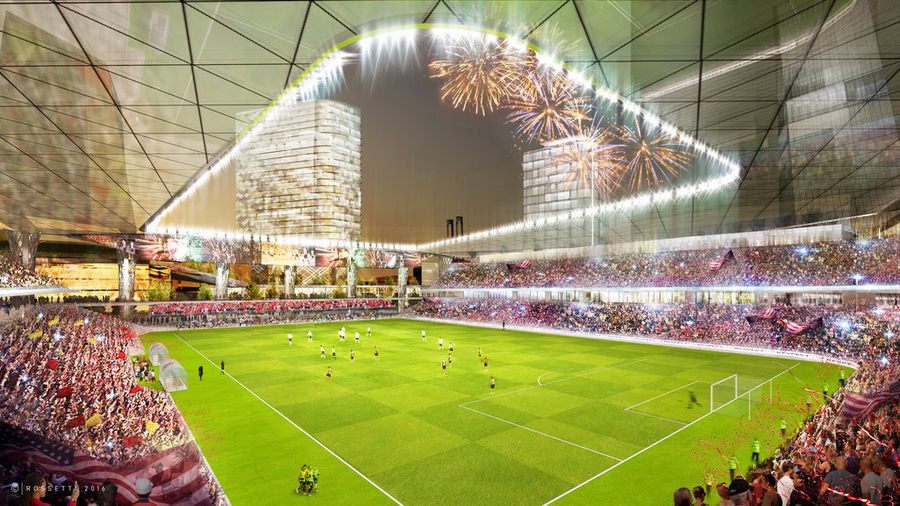 The venue, due to spatial constraints, would lie on the east-west axis and offer a semi-open west end. While three remaining sides would have double-tiered seating, the west zone would only have a single tier, connecting visitors to the plaza outside.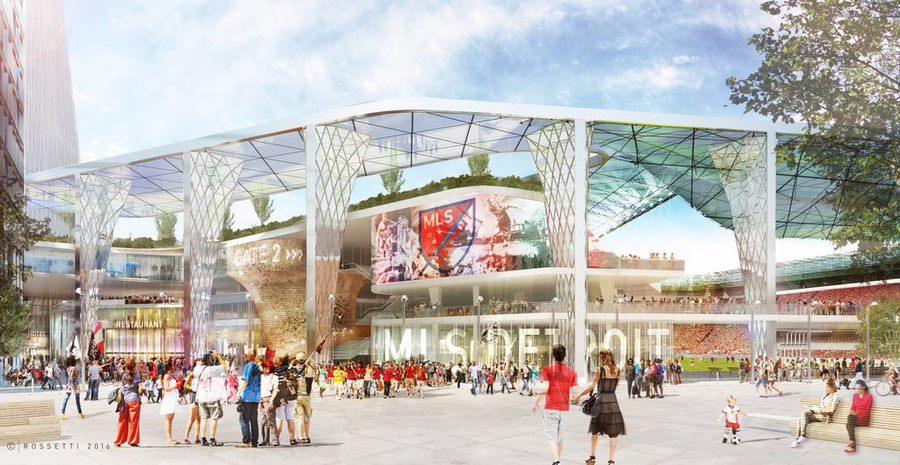 Plazas are a major feature of the project, because there would be a system of interconnected public areas on various levels, the top one being a park created on the stadium's roof! The plazas would accommodate sports facilities and connect the stadium to three other major buildings in the complex, a hotel, office tower and residential tower, all between 18 and 28 floors.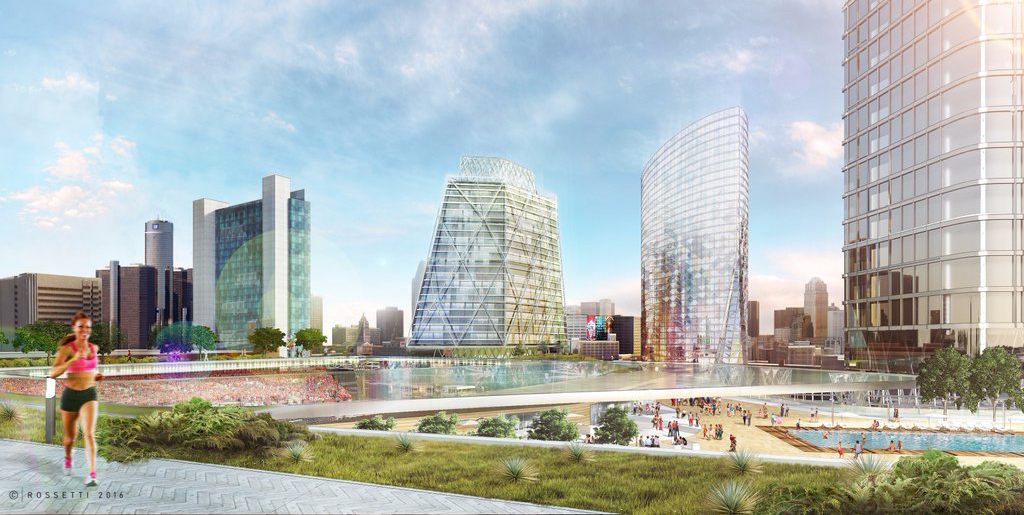 The entire complex could cost as much as $1 billion, of which the stadium alone should consume $225-250 million. At this point the businessmen didn't suggest seeking any taxpayer funding and it's understood that majority of the development would be covered privately. However it's not clear if a subsidy won't be asked for, even if there are few cities that need such demands less than the bankrupt Detroit.
With all the above said, the main condition for any piece of this proposal to go forward is for Wayne County to agree on jail sale as, reportedly, there is no Plan B…