New design: $33,300 per seat, a premium expansion
source: StadiumDB.com; author: michał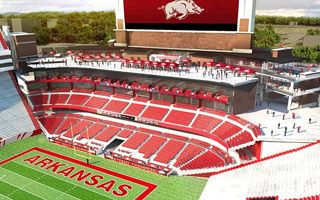 Expansion of Razorback Stadium in Arkansas isn't a unanimously welcome one as it will bring only premium seating.
Our database has one more major project of the US collegiate athletic venues. This concept envisages filling of the last available part of Razorback Stadium (Fayetteville, Arkansas), the north end. To do this, existing Frank Boyles Athletics Center will be demolished and new training facilities will be incorporated into the planned grandstand.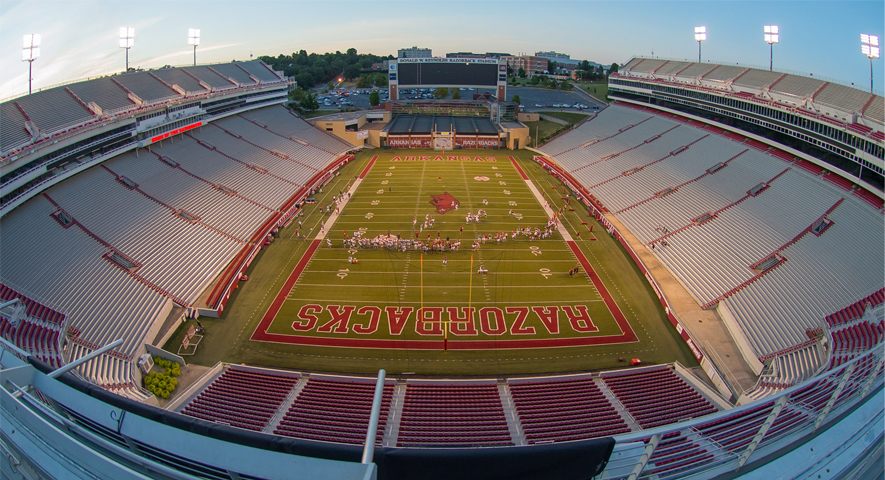 This plan could have meant the end of a major tradition as ever since it opened, the stadium allowed viewing events from the hill north-east of it. To keep that habit alive at least partly, the new grandstand won't reach the north-east corner, still giving a glimpse of the field.
And though the seating bowl won't be a continuous ring, a new concourse will allow fans to walk around the stadium with ease. That's all well and good, especially with the stand's impressive approach and planned statue of razorback hogs. But in Fayeteville, where sell-out crowds are quite common (despite the stadium being Arkansas' largest), the capacity increase does raise questions.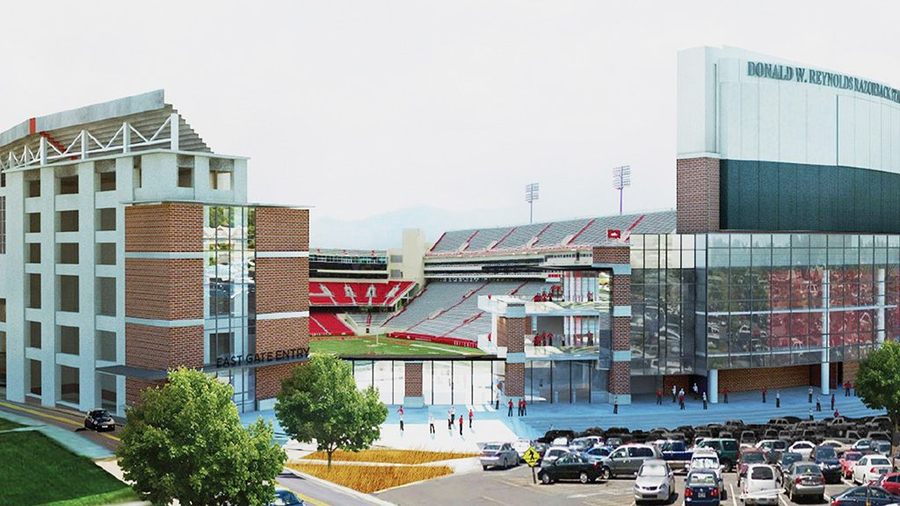 In terms of seating this expansion won't be huge, especially compared to many NCAA grounds. There will be only 4,800 seats added, all of them of premium level. With the budget expected to reach $160 million, this means a stunning $33,000 per seat.
The price tag becomes less shocking when we realize these include private boxes, large air-conditioned lounges, open-air corporate loges and other facilities, all topped by a massive terrace with standing room and bars.
But even if Razorbacks advertise new areas as "family-friendly" or dedicated to "young alumni", these won't be cheap seats. David Pryor, former United States senator and Arkansas governor, and probably one of the most popular men to serve Arkansas, is on the board of trustees and has said that at this time he is not convinced expanding the football stadium is in the best interest of the students or the UA.

"I assume I am, right now, a minority of one, but I feel very strongly that now is not the time to go forward with the stadium project." Pryor said. And he's most likely right to perceive his position as minority, because in May the Board of Trustees should approve the revamp, prompting construction and potential delivery already in 2018.