London: It's the final go-ahead for Tottenham
source: StadiumDB.com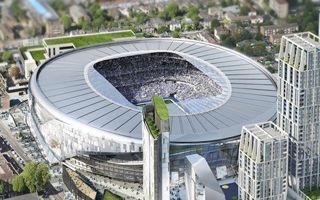 Government passed the design forward, allowing Haringey council to give their final green light to the new 61,000-capacity stadium in Tottenham. Which changes literally nothing for the project.
Haringey council on Friday gave the final positive decision regarding Tottenham's new stadium. This means there are no major obstacles awaiting the project, even if it was the only anticipated decision.
Initial planning approval from Haringey came in December last year, later followed by approval from Mayor of London. From his office it went to the government, which meant there was still a risk of holding the project. But since the government had no objections, the stadium is now cleared for delivery.
The club said in a statement it would "now work with Haringey council in respect of finalising planning processes, public sector support for the surrounding environs and transport improvements that are essential to the deliverability of the scheme".
Current works on the project see the north end rising gradually above ground level as foundations are being laid in the west and east. South end will only begin to grow once White Hart Lane is demolished. Despite ongoing proceedings, the project has been under construction since early 2015, beginning with site clearance.