Barcelona: New Camp Nou in detail!
source: StadiumDB.com; author: michał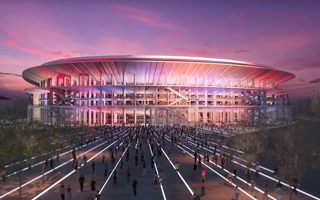 Facts & figures, many renders, videos and construction timing. Check out all you need to know about the new Camp Nou, presented by FC Barcelona today!
Early in March we've shown you three renderings of the winning Camp Nou design. Now instead of three there are 20+, because FC Barcelona ran their official presentation earlier today. With a special stage built at actual Camp Nou and a giant mockup of the new one brought straight from Japan.
You already know the key features of Nikken Sekkei's concept. The stadium is to be open throughout, offer three vast decks for pedestrians, also serving as viewing points. Aesthetically the decks' ceilings will dominate, offering large spaces for illumination and display of patterns/videos. All of that we knew in March, now here come more facts…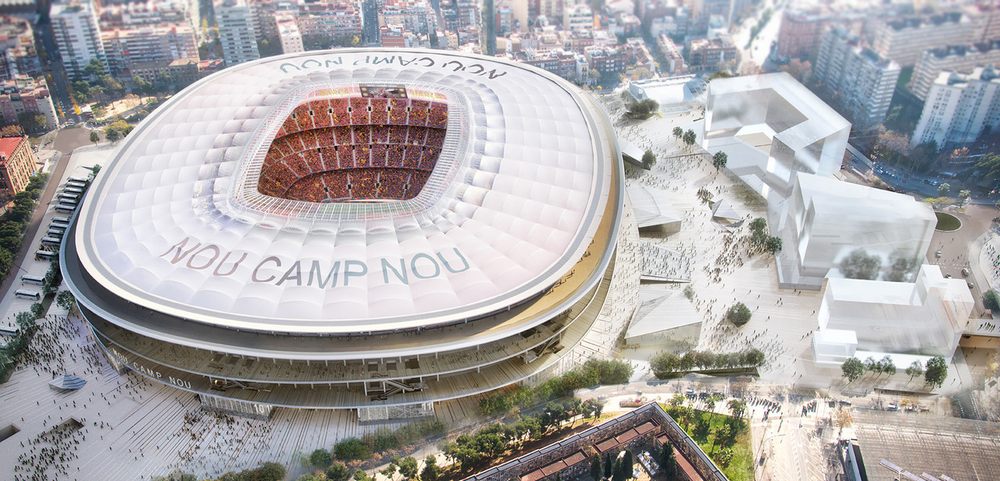 Nou Camp Nou in numbers
105,000 – this of course is the official capacity. Already now Camp Nou is Europe's largest stadium, but after reconstruction it will become the second largest worldwide (as long as single-seat capacity is counted). And the seating layout won't only change as "a couple" rows are added on the west side. All of the lowermost tier will be demolished and rebuilt for better sightlines. Then west, south and north sides will indeed be raised far beyond their current height. All seats will be replaced, egress paths widened and a new "Blaugrana" gradient will be created;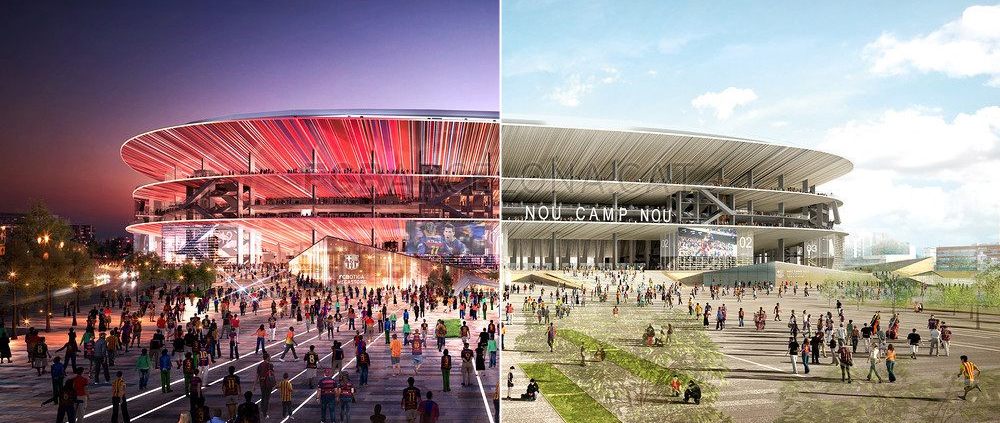 47,000 – that's how much (in square meters) the vast new roof will cover. Hovering on lightweight steel cables, the roof will mostly be covered with membrane of varying translucency, providing good sunlight access inside;
5,000 – that's how much (again, square meters) of photovoltaic panels will be mounted atop the roof's outer rings. This way energy needs will be secured for some uses, including an electric car charging station at Camp Nou;
3,500 – that's how many parking spaces will be fitted into an underground parking site along the east side of Camp Nou. Ground level will remain for pedestrian use only (and limited bus parking);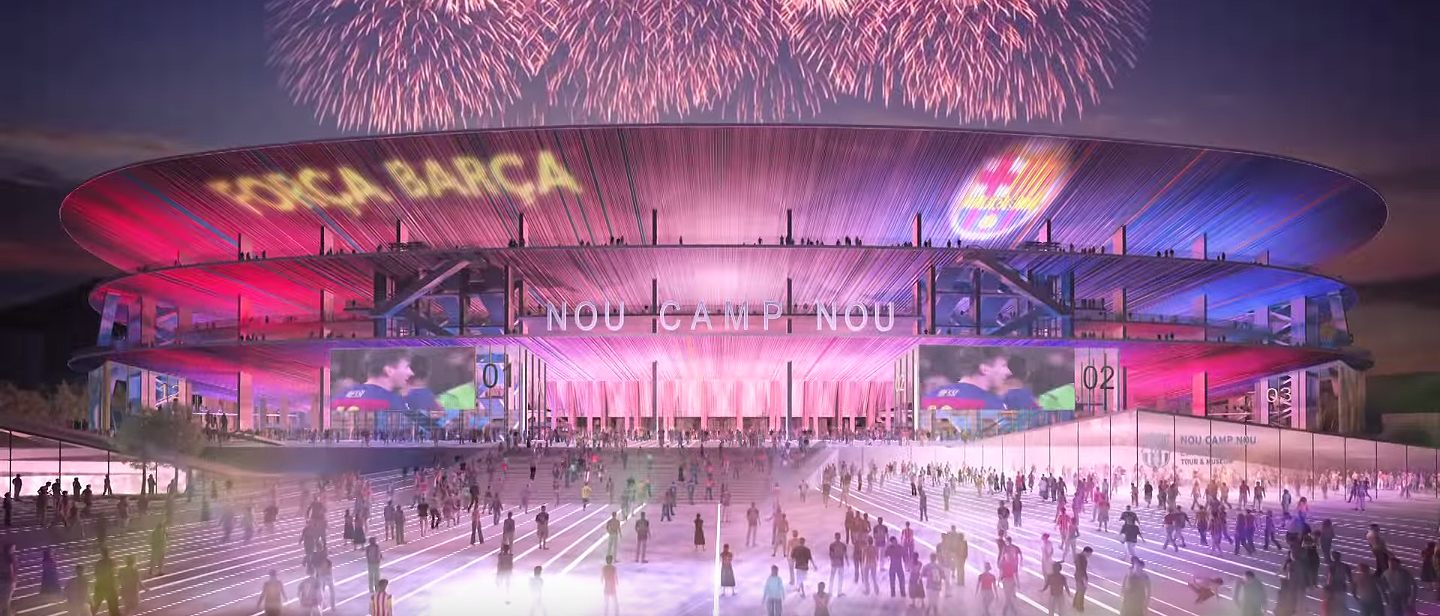 2,800 – square meters is the surface of new FC Barcelona megastore, to be built independently outside Camp Nou;
2,500 – similar in size, the new club museum will offer high-tech displays to provide a captivating space to know Barca's identity and history;
1,000 – that's how many corporate seats will be on offer for people wanting to be "within hand's reach" from Messi. Copied from USA, the Pitch Club will put some spectators just behind the players' benches, on field level;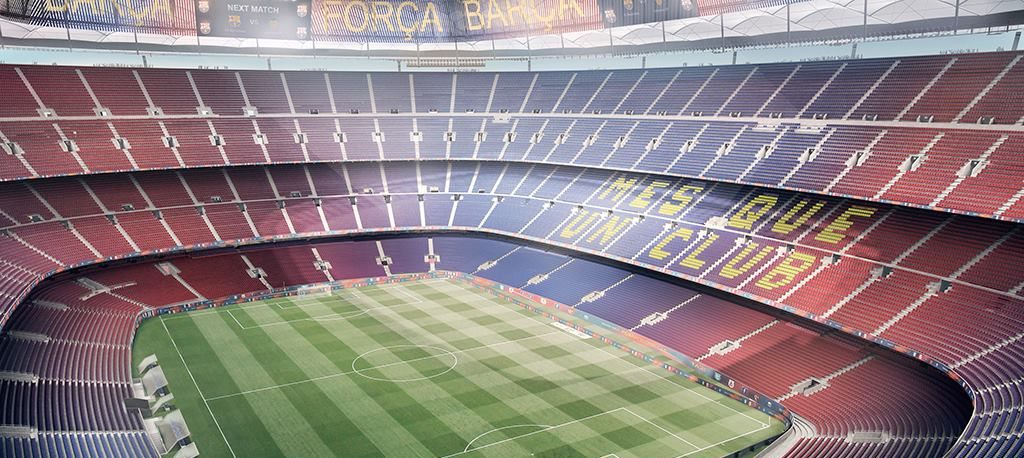 700 – number of points of sale at Camp Nou. Basically, this means one cash register for every 150 spectators, be it catering or merchandise. That's a huge number!;
360 – degrees or a full circle. That's the uppermost ring's stunning viewing deck, allowing fans to walk around the stadium and admire Barcelona's skyline from all sides;
355 – capacity of the new Sala Roma, Barca's most representative banqueting suite. Relocated to a new area, this exclusive suite will be significantly bigger than the current 300-capacity one;
287.5 – square meters is the surface of each giant screen. There will be four identical ones hanged under the roof. Together with a system of LED webbing the screens will create a multimedia ring around the stadium;

106 – that's how many rows of seats we were able to count in the currently released materials. 32 at the bottom level, 35 in the middle one and 39 to the very top;
85 – number of private business suites available for long term lease for a group of people. All of these are to be located on top of the lowermost seating tier;
12 – that's how many towers with access routes will be built around the stadium. Each tower will comprise regular staircases, escalators and elevators, assuring that people of all ages or abilities can get even to the very top of Camp Nou;
2 – restaurants and further 2 large business suites will be created alongside the 85 private boxes. Also on top of the lowest seating level.
Construction timeline
Surely it might change depending on procedural phase of the project, but as we write FC Barcelona is hopeful to begin works on the ground after the 2017/18 Primera División season. Before another campaign begins, half of the front row-stands will be demolished and rebuilt. Outside, temporary access routes will be set out (green in the drawings) as foundations and plazas for the expanded grandstands are built.

With this done during the summer, fans will be able to safely attend Camp Nou despite construction works ongoing outside. By the end 2018/19 season both the south and north ends will reach their final height. In the summer the second half of the lowest tier will be torn down and rebuilt, while construction of new western grandstand will go full speed.
During the 2019/20 La Liga all of the roof's concrete ring will be done, while all stands reach their final height. In mid 2020 the cable roof will be lifted and all 105,000 seats will be prepared for use in 2020/21. Over the season roof membrane will be installed while the three spacious decks outside take shape. For the stadium itself that's very much it, but landscaping and work on surrounding infrastructure will go on well into 2021.