South Africa: Skyscraper to dwarf Moses Mabhida Stadium?
source: Businesstech.co.za / IOL.co.za; author: michał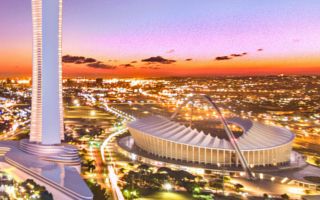 It may be among the tallest stadiums ever built, but the iconic building in Durban may soon be overshadowed by the tallest skyscraper in the southern hemisphere!
During Wednesday's meeting of the economic & planning committee of the Durban City Council a new concept has surfaced. Private investor wants to build Africa's (and indeed the entire hemisphere's) tallest skyscraper right across the street from Moses Mabhida Stadium.
Reaching 370 meters at peak, the building would become Durban's main landmark and a new catalyst for development in the northern part of the city. Worth keeping in mind, it's almost exactly what Moses Mabhida Stadium was expected to be. That's why it was built with a 105-tall arch that is also the city's tallest viewing deck.
But while the existing sports stadium is indeed magnificent, it's severely underused and struggling economically. This is where the new tower could help. Durban Iconic Tower would comprise a hotel and additional parking, among other facilities, significantly improving the precincts infrastructure.
The proposal by Durban Tower Development Company (DTDC) was met with approval by the councilors, but this was a very early stage meeting. The skyscraper designed by Metropole Architects still needs to undergo consultation with local residents and bureaucratic proceedings to be approved. If all hurdles are done in a timely fashion, it might break ground in 2017. If this happens, opening could come as soon as 2021.