New stadiums: Three less known Polish venues
source: StadiumDB.com; author: michał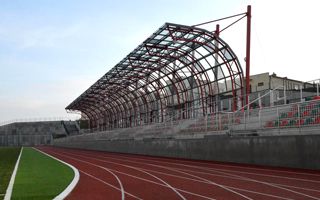 If you've heard of them, we're impressed. Because even in Poland these three aren't too well-known. Not that they don't deserve praise, serving amateur football better than some professional grounds!
We're finally adding new more stadiums after Stadium of the Year 2015, which consumed us for quite a while. We're beginning with these three from Poland, largely thanks to Kajtek Zajączkowski, a 7-year-old boy who sent us the great photos from Barcin and who waited long enough already for their publication. So please enjoy these three new grounds from our home country!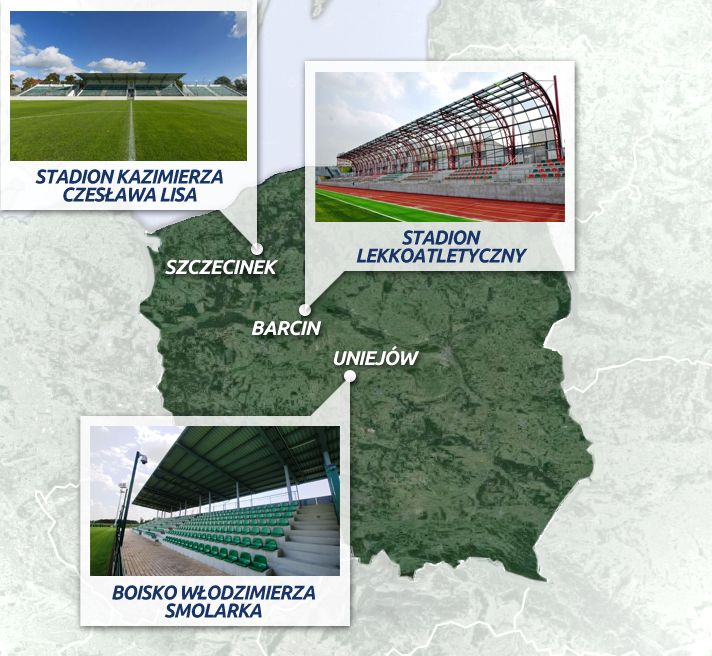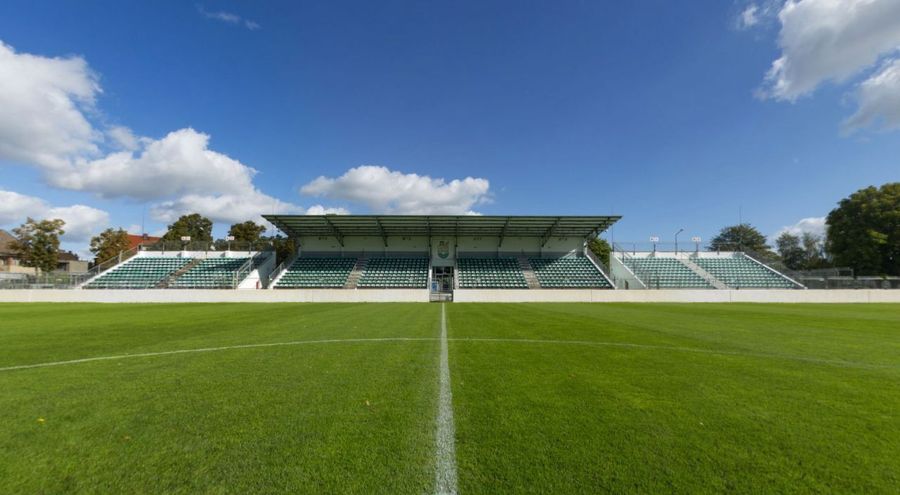 © OSiR Szczecinek
When it was built in 1999, it was the town's largest project since regime change in Poland. And over the following years it was also the best stadium in the region. Even if it seems modest now, at that time (when almost no town in Poland had a modern stadium), the concrete stands with 1,500 seats (600 covered) were quite something!
Central part of the east stand houses all sporting facilities, while north end of the stadium houses offices of two local clubs (Darzbór and Wielim), both separated by main entrance gate. Since 2012 the gate is decorated with the name of Kazimierz Czesław Lis, famous coach working with local players for 50 years.
Perhaps the most fascinating part is the west side of the stadium. We don't mean the temporary tubular stands and speaker box, but the fact that shores of Lake Trzesiecko are just 20 meters away from the sideline!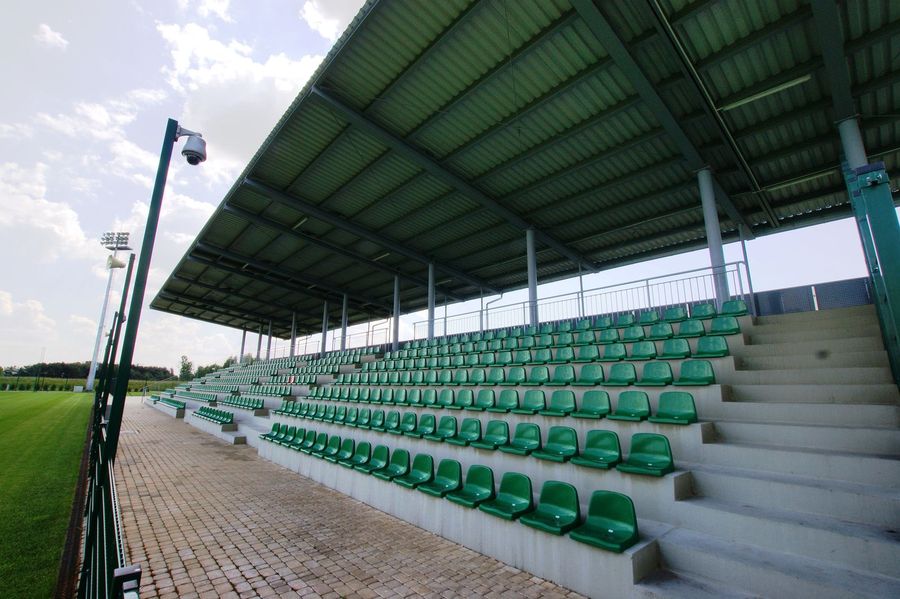 © Termy Uniejów
In late Spring of 2010 construction of two football fields began in western Uniejów, central Poland. Main field is natural and has one permanent grandstand in the west, holding 496 people under a roof. East side was equipped with a temporary tubular stand for further 150 fans.
Secondary field has one landfill stand for 110 people and is synthetic. Both pitches are floodlit and there's room for further fields, should there be a need. Entire project, with parking sites and public plazas consumed 13.333 million zloty ($3.5m) and was half-financed by the European Union.
Official opening took place in May 2012, seeing the home club MGLKS Uniejów face off stars of Canal+ in a friendly game. The ceremony was marked with honours to Włodzimierz Smolarek, legendary Polish footballer who died shortly before the complex opened. Smolarek was among initiators of the project and has thus been included in its name. He also has one seat reserved for him in the stands.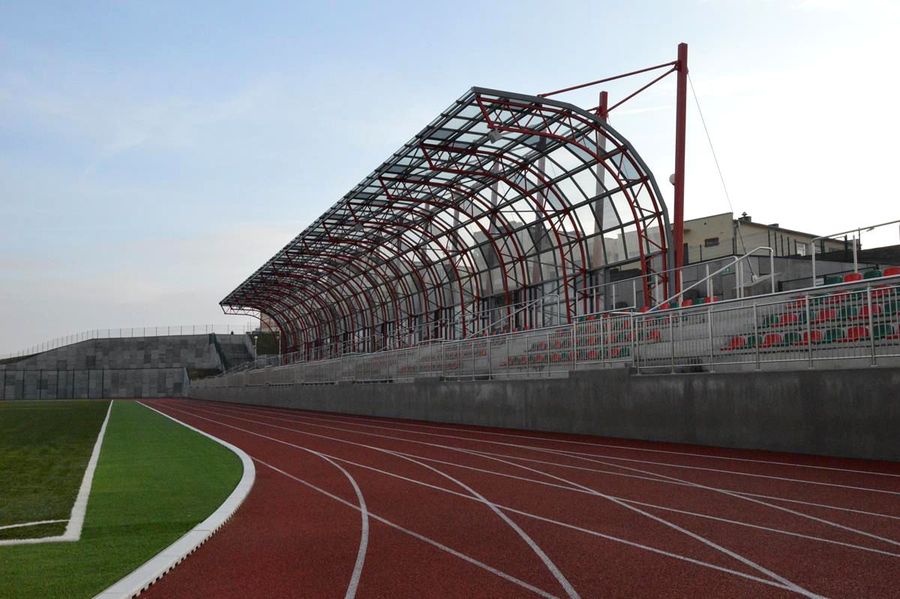 © Kajtek Zajączkowski
In terms of location, it's one of a kind in Poland. The new multi-use stadium in Barcin was landscaped into a slope by series of terraces. The site proved very challenging, but there could be no other placement for the stadium if Barcin was to receive funding from the government (the building lies next to a school and will serve students). Eventually external funding constituted PLN 2.8 million of a total budget of PLN 12.5 million ($3.3m).
Construction was launched in early 2014 and was due to last until Spring of 2015. Unfortunately delays along the way (heavy rains caused landslide) only allowed opening in October. And even that was conditional, because the retaining walls still weren't considered safe. Actually, current safety clearance is only valid until June 30, pending further analysis.
The stadium has one grandstand in the south, holding 672 people with very distinctive, but not entirely practical roof. It offers great view of the area north of the stadium. West end is occupied by a sports pavilion of 1,000 square meters, there's also room for a concert stage, while the running track and artificial field are free for community use. More professional tenancy is held by local football club Dąb Barcin.