Netherlands: NAC Breda stadium not entirely safe
source: BNDeStem.nl / Necker.nl; author: michał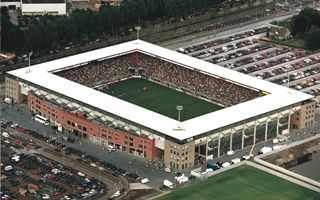 Controversial cracks appearing in the main stand are caused by errors in construction. The stadium also doesn't meet fire safety rules, according to an independent report.
As we've written in previous years, Rat Verlegh Stadion is subject to serious controversy due to cracking concrete in the main grandstand. The cracks in three areas of the main grandstand weren't officially confirmed until 2014 and required thorough examination.
Revealed in March, the post-audit report by Necker van Naem indicates that the cracks are of structural nature. Conclusions suggest design may be at fault, though two of the cracks were already secured and should be no threat in the future. Third one, however, requires further action. At this point it's not hazardous, but if left without remedy it might lead to a disaster at one point.
In the same report auditors also found that Rat Verlegh Stadion fails to comply with existing fire safety regulations. Issues appear in emergency signage or improper materials used for insulation. Although new regulations were introduced only after the stadium was built, Necker van Naem suggests the building isn't even compliant with the 1995 construction permit.