London: Major updates on Olympic Stadium
source: StadiumDB.com; author: michał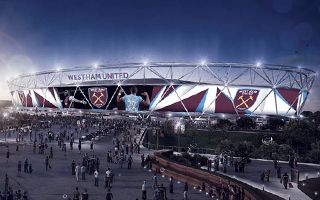 Season ticket demand is skyrocketing and capacity will thus grow to possibly Premier League's second largest stadium. West Ham also boast about Europe's largest HD screens, though they fall well short…
It's been rumoured for months and now it's official: West Ham United will move to the Olympic Stadium with increased capacity. Instead of previously announced 54,000, the building will hold slightly over 60,000 people. The last three figures will decide whether it will become second or third largest stadium of the Premier League, as Emirates Stadium has 60,272 seats.
Should we take West Ham United's statement literally, there are already up to 200,000 people registered on the Priority List, waiting for a season ticket. The statement reads "five times as many supporters on the Priority List than there were season tickets at the former Olympic Stadium" and there were roughly 40,000 season tickets released initially. Is this math correct? West Ham is yet to release actual numbers.
Regardless of actual waiting list size, it's already certain that there will be very few people lucky enough to get one of the additional 6,000 seats. Each of these newly released seats is located quite far from the field behind goals, which resulted in them being priced very reasonably. Well, reasonably for Premier League standards, at least. Each seat is £289 ($407) per season, but only available in two-season tickets.
(not that) impressive façade plans
West Ham have submitted new planning application for the outer wrap of the stadium. Initially it was indicated in early 2015 that all of the roughly 800-meter (circumference) outer skin would be a giant screen. Now it seems most of it will be static, though we may expect interesting illumination. Below the latest rendering.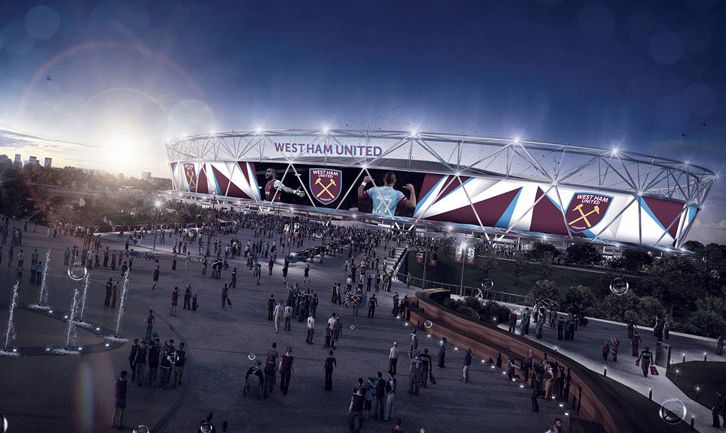 However, there will be additions to such outer wrap. "It would see the largest digital screens in Europe, measuring a massive 83m by 12m, installed on the outside of the Stadium." reads the recent statement by WHUFC.
There are two issues with this statement. First, we can only assume there will be more than one giant screen (most likely two). Second, the giant screens, while massive, will in no way be close to Europe's largest. After all, Kazan Arena in Russia has an outer screen of 4,030 square meters (155x26m)!
Seats and grass in bloom
Current works ongoing inside the stadium include replacement of all black seats from the current layout with claret and blue ones. On the field the Desso Grassmaster synthetic fibers are already sawn in and awaiting for natural turf to rise and create the smooth field for 2016/17 Premier League.