Czech Republic: Brno to buy stadium design for Za Lužánkami
source: Brno.cz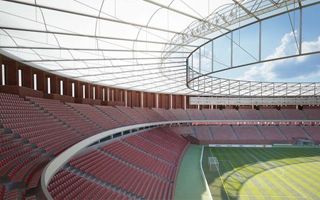 Official website of the Brno municipality confirmed the plan to buy complete documentation for what will be the country's largest stadium.
The official website Brno.cz confirmed the city will pursue plans of rebuilding the historical Za Lužánkami stadium. Final shape will be based on the 2008 concept that foresaw Za Lužánkami as the largest stadium throughout the Czech Republic with 30,000 capacity.
"Now we need to provide planning for infrastructure within the Ponava district [to serve the stadium], acquire copyright for the design and update it before getting the stadium built", said deputy mayor Richard Mrázek during Wednesday's City Council meeting.
Councilmembers approved such framework and agreed that the municipal company Brněnské komunikace carries out these tasks.
Brno's somewhat unexpected return to previously scrapped plans is the direct outcome of sensational initiative by local residents and supporters. In late June of 2015 they hosted a friendly game for footballer Petr Švancara, which was attended by over 30,000 people! To make it possible, hundreds of people volunteered for months to adapt the ruined stadium to current regulations for large events.