Toronto: Third roof raised, naming rights signed
source: TorontoFC.ca; author: michał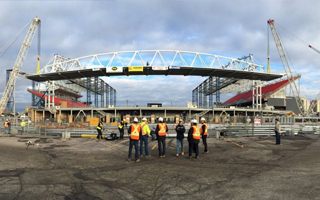 On Sunday the last crucial part of BMO Field redevelopment was delivered, while today future of naming rights got sealed with new deal by BMO.
As you may have noticed on the Marcanadian's photos released via StadiumDB, both west and east zones of BMO Field have their primary roof structure almost ready. On Sunday the last piece of cover joined them as two large crawler cranes mounted one solid piece of cover above the south end.
The pre-assembled single truss weighed 490 tons and measured 377x68 feet (115x21m), which made it quite a challenge to raise. With Sunday's good weather the operation went smoothly and saw the last major element of the C$ 120-million redevelopment arrive in position.
Of course works continue, but no other elements that large or spectacular will be delivered ahead of the upcoming MLS season. Toronto FC are nearing completion of the project launched in September 2014, which brought capacity of Canada's national soccer stadium to almost 31,000.
Meanwhile yesterday Toronto FC revealed that their parent company, MLSE, signed a new contract with BMO, which secures further decade of naming rights for the stadium. The new deal means that since 2007 until at least 2026 the building will bear the same name.

Photo: Toronto FC