Poland: Fate sealed for Stettin stadium?
source: StadiumDB.com; author: michał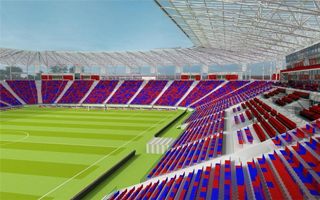 Supporters oppose, the club draws a counter-vision. And yet the city of Stettin persist with their controversial redevelopment plan. No social consultation was conducted.
Tuesday saw the second public debate dedicated to the issue of new football stadium in Stettin. It's been an ongoing theme for a decade now, but particularly controversial since 2013.

This was when official redevelopment plan was revealed. For roughly 50 million zloty ($16m) the municipality wanted to reconstruct the north side and cover all of the horseshoe-shaped stadium with a roof. Moderate optimism soon changed into outrage after cost ballooned to over 100 million.
The inflation was caused by evaluation that other existing stands would have to be rebuilt as well. Yet, the city decided to leave them unchanged, despite being built from scratch. This includes the western curve for most vocal fans, where the 1st row is a massive 40m away from the pitch.
Throughout this time no form of consultation was used by the city and communication was chaotic despite numerous attempts by fans to get engaged. As things stand now, the stadium would cost almost 150 million, but according to its critics would still be heavily outdated when reconstruction is to end in 2019/20.
Recently the home team Pogoń Szczecin commissioned an independent draft to establish whether a robust football-specific stadium would fit in the existing location. According to Jacek Ferdzyn, creator of the new Widzew stadium, it shoudn't pose a major challenge. The early plan drawn by him can be seen below (third image).
During the Tuesday debate also supporters spoke out against the municipality's plan, which would see the horseshoe retained. They hope for a fully enclosed stadium with stands close to the field, unlike in the existing plan. While the municipality did look for a compromise and ordered for the western curve to be flattened, it would still be rebuilt 18.5m from the pitch. And even that only if the pitch itself would be moved.
A lot to discuss? Well, apparently not for the municipal authorities. Representatives of the mayor were the only ones who didn't appear for the Tuesday debate.