New designs: Five proposals for Sosnowiec
source: StadiumDB.com; author: michał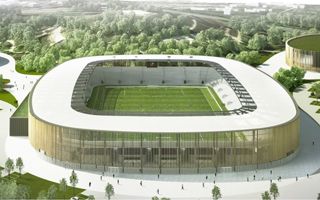 We have all the finalists, including the winning design for new sports complex in Sosnowiec. By 2019 we may see it built and it would be among Poland's most beautiful stadiums.
Earlier today the authorities of Sosnowiec (Upper Silesia, Poland) along with Polish Architects' Association presented five finalists of the international design competition for Zagłębiowski Park Sportowy. JSK Architekci were selected as the best bidder. Other works of this Warsaw-based company include Stadion Narodowy, Stadion Wrocław, Stadion Wojska Polskiego and recently the new Cagliari stadium.

Now it's time for Sosnowiec. The complex will include a football stadium for 12,000 people (with option of easy expansion to 15,000), indoor arena for 3,000 fans and a covered ice rink for 2,500 people. All buildings located within a major public park will be used primarily by sportsmen of Zagłębie Sosnowiec.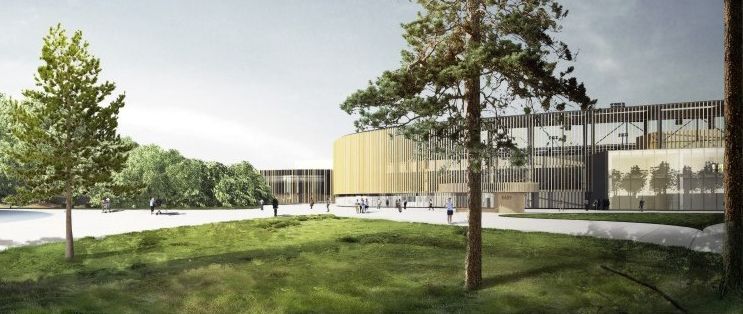 The JSK vision received praise for the way it harmonises with existing mound. Buildings aren't too tall, their shape mimics the hill and symmetric layout allows all three buildings to fit in the area. Each building will be covered by wooden lamellas to continue the idea of public park. Landscaping will also include trees.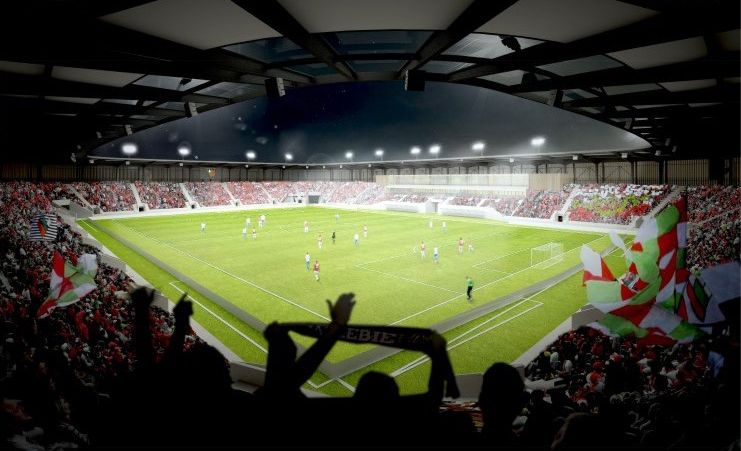 The complex will be built in three phases, following approximately a year of detailed design work. Main stadium will come first and should there be a need, it may be expanded by further 3,000 seats by addition of 4 rows of seating. Construction should begin in 2017 and each phase should not take more than 2 years. Below you can also see the four other designs included as finalists.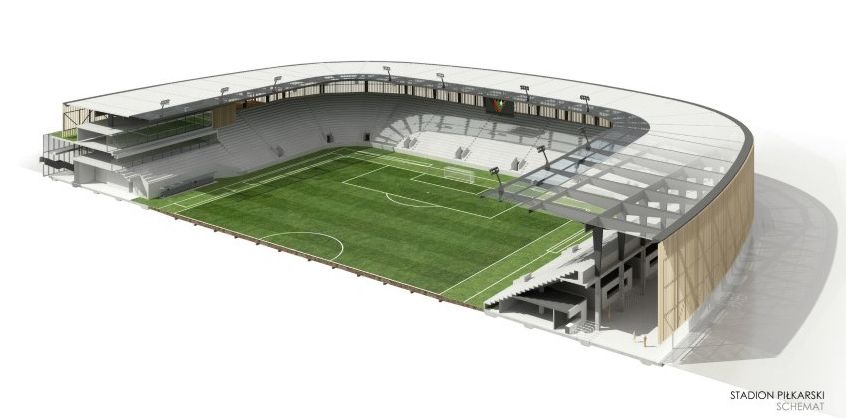 The Spanish-Polish joint project of Zagłębiowski Park Sportowy won 2nd prize during international design competition commissioned by the city of Sosnowiec. The jury appreciated the clear master plan, which harmonises with existing leisure spaces.
The vision suggests creation of three consistent forms covered by translucent cladding. Each of the diamond-shaped buildings would mimic the club crest of Zagłębie Sosnowiec, key tenant for all arenas.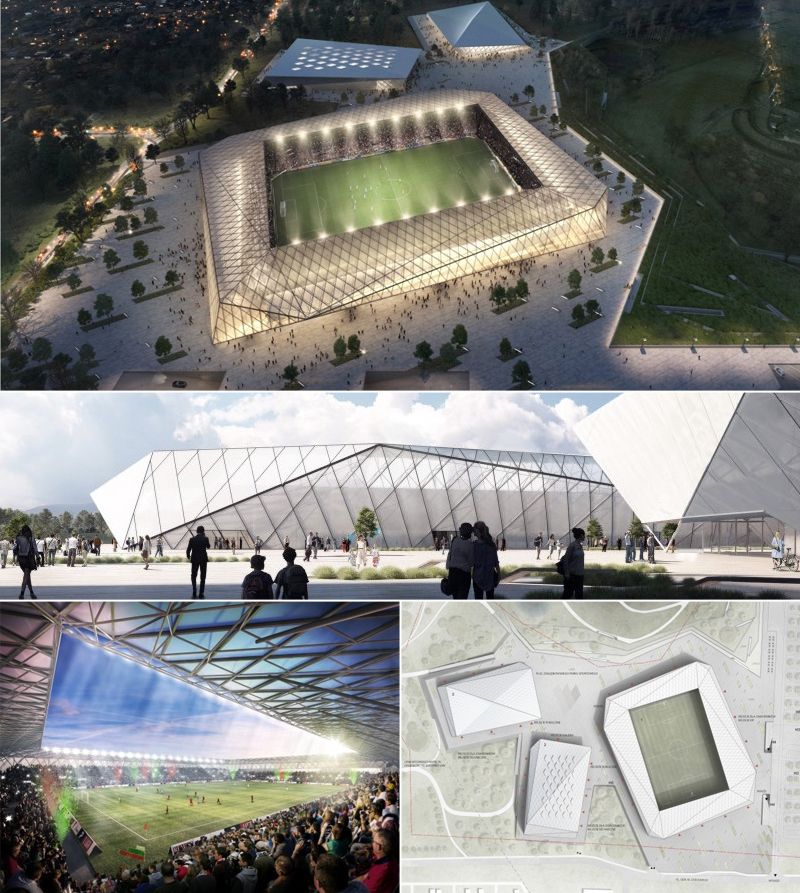 This idea of Stettin's DOMINO Grupa Architektoniczna received praise for creation of a composition axis towards the north-east. It's created by main avenue connecting all major and smaller sports facilities of the complex.
The stadium stands contrasted with conjoined indoor arena and hockey rink. The two smaller buildings resemble lumps of coal with sharp, but uniform shape. The stadium is also angular, but covered with white, red and green scales, standing out.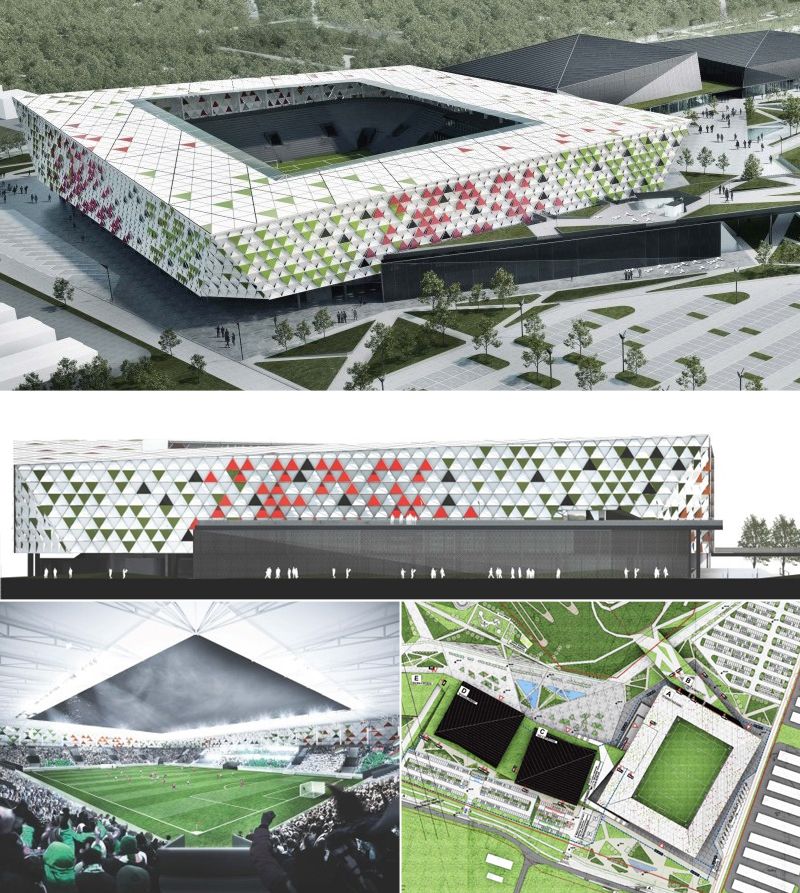 Can you hide a major stadium and two indoor arenas from public view? Well, almost. A very interesting attempt was created by JRK72 and Jojko+Nawrocki Architekci. The architects suggest hiding all three venues in sunken bowls that would have only the last row on ground level. This means just the 'levitating' roofs would be visible to fans outside. One thing that wasn't avoided are floodlight masts of the stadium standing out in the landscape.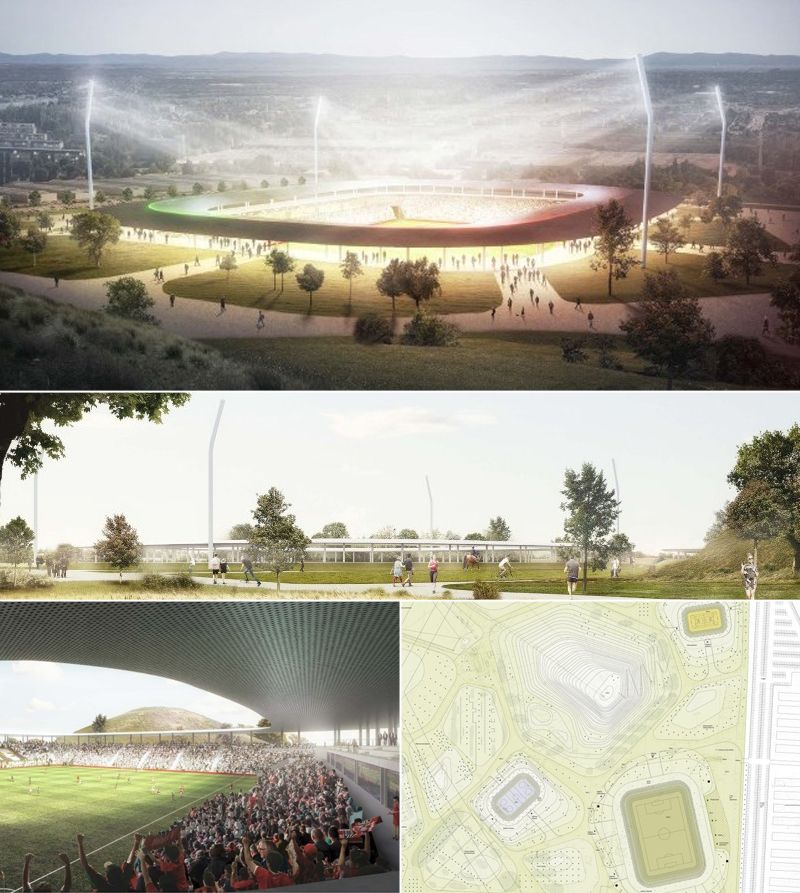 Discipline and simplicity of the layout is the dominant value of PIG Architekci's work. Main stadium and conjoined indoor arenas are connected by an attractive open public plaza. Dark by day, the venues would come alive at night thanks to illumination. Their rectangular blueprint would be followed by similarly shaped parking spaces.