Atlanta: Synthetic turf selected for Falcons stadium
source: AJC.com; author: michał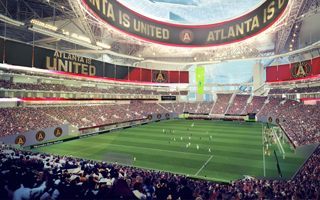 Mercedes-Benz Stadium will have a synthetic turf playing surface produced by GreenFields USA, the teams and the turf company announced Thursday.
Safety of NFL's Atlanta Falcons players comes first as the team announced the selection of GreenFields' MX 3-Star Turf System for Mercedes-Benz Stadium. The system will be used for the first time in any NFL stadium, though it's been used in soccer stadiums before.
Falcons officials initially hoped to have natural grass in their new stadium, but decided in 2013 that the building instead would have artificial turf. Key goal was to offer maximum versatility as the venue will play host to both American football, MLS soccer and numerous non-sporting events. Additionally, with the retractable roof design, very limited sunlight access will be provided, deeming the natural field idea impossible.
When opened, Atlanta Falcons stadium will be one of 13 in the NFL to use synthetic turf (majority have natural). In the soccer league however, only four clubs use artificial fields at present. Atlanta will join in 2017, using part of Mercedes-Benz Stadium's stands.
The $1.4 billion stadium is scheduled to open in June 2017, reflecting a recently disclosed three-month delay.