Scotland: No away section in Glasgow, fans sat together
source: StadiumDB.com; author: michał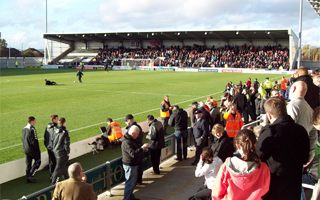 Would you go in your club's colours to the home area of your rivals' ground? Well, during the Friday derby this was the case. But no, it's not the Old Firm we're talking about.
This weekend fourth round of the Scottish Cup games takes place, including the Glasgow derby between St. Mirren and Partick Thistle on Friday. But it's not the score that earned this fixture headlines, quite the opposite. Both teams agreed to mix their fans instead of segregating them from one-another.
Supporters of Thistle were allowed to St. Mirren Park wearing their colours, though only to the main stand and family section. This was agreed by both teams and consulted with fans themselves, though it was decided not to spread the mixed zones to the entire stadium.
Just as expected, atmosphere was very friendly even despite the away side winning in the end. Declarations by both clubs after the game suggest it's a decision that will be repeated in the future.
That said, we should note that St. Mirren and Partick Thistle supporters are in rather friendly relations and games between the two sides don't carry as much risk as some other derby fixtures across Scotland's professional football.
Similar idea, though less frivolously, is also being introduced in one of Brazil's most electric derby in Porto Alegre!