Miami: 14,000-ton roof to grow by August
source: StadiumDB.com; author: michał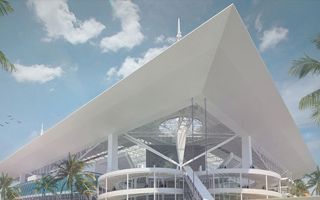 Miami Dolphins have just finished their NFL season and since they didn't make it to the playoff round, work can now go on at Sun Life Stadium. This summer the stadium will have one of USA's largest roofs.
Miami Dolphins played their last home game of the 2015 season just yesterday, winning against New England Patriots. But playoffs were already beyond reach, so now Sun Life Stadium can begin to see its new roof grow.
But while official construction works are yet to start, preparations and assembly of the roof trusses began back in autumn. No wonder, because the immense 14,000-ton roof is expected to be ready by August, for the next NFL season.
The longest single truss to be lifted will be 485 feet long (148m) and up to 11 cranes will be used to assemble the cover. Total surface of over 50,000 square meters will be covered with membrane. While the roof won't span over the front rows, it's expected to provide shade for 92% of the spectators. It will also protect external ramps leading to the stadium.
Aside from the main structure, also new floodlight, sound and video screen systems are to be installed. Energy-efficient, but still impressive installations will see four 1,472-inch screens placed in the corners.
This year's work constitutes the 2nd phase of $425-million redevelopment launched last year. Before the 2015 NFL season stands were partially reconstructed, equipped with new seating, lounges and concession stands.