New stadiums: You chose Sweden, here it is!
source: StadiumDB.com; author: michał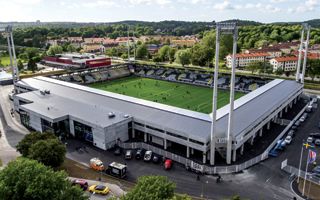 In our first poll we asked you which country you'd like to see more of. Sweden was your pick and so here they are – five new stadia from Scandinavia, two of them really brand new.
During the weekend we asked you via Twitter which country's stadiums we should add to the database next. Sweden was your pick so we hope you'll enjoy the stadia added tonight. And also don't forget to follow us as tomorrow we're launching our second poll, which will include China (2nd favourite last time) and… check tomorrow to see which other countries!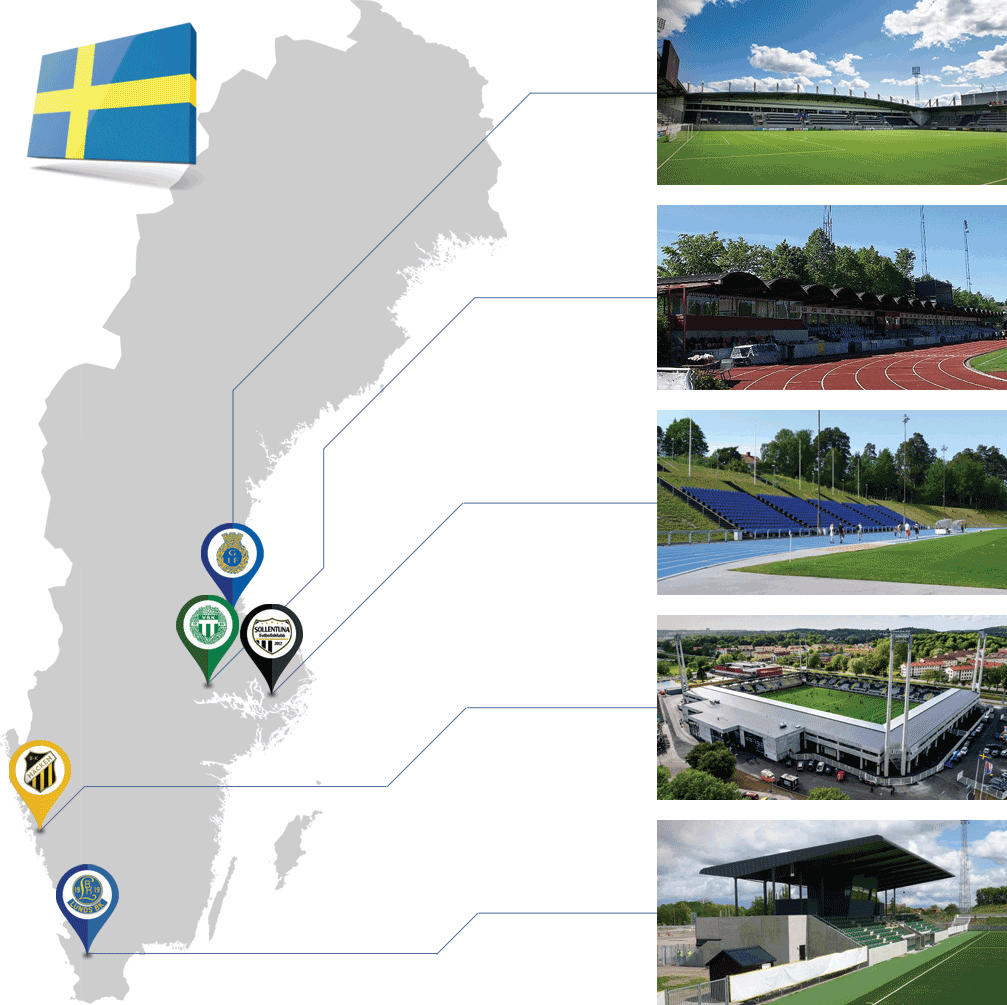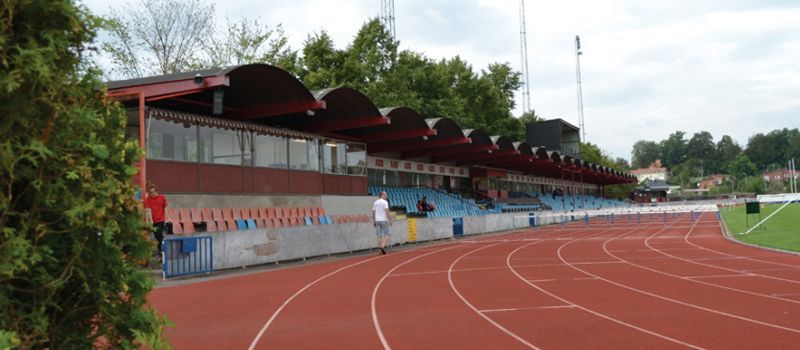 The oldest and most centrally-located stadium in Västerås has a rich history, but not particularly bright future. The ground was built back in 1932 and since then had been the city's most important football and athletics venue.
For years it hosted all games of Västerås SK, but the club relocated in 2008 to the new Swedbank Park. Historically it's a real shame, because this ground hosted games of the FIFA World Cup back in 1958 and one might say it deserves a better legacy. However, the athletic layout and mostly wooden, outdated stands lost against a new football-specific stadium.
During the most popular games the stadium had witnessed crowds of well above 10,000 people, though today its stands are empty most of the time. Still, to this day it remains very important for training purposes.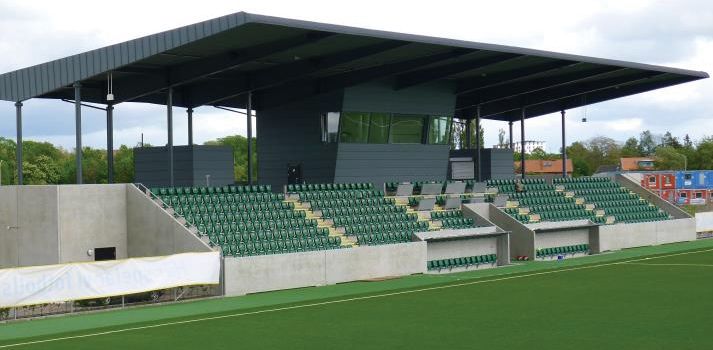 Initial main stadium in Lund was a multi-use one built in 1968. It was oriented from west to east, which isn't optimal for football. However, after complete reconstruction in 2013-2014 only the floodlight masts of the old ground remain, while field (now synthetic) was rotated and surrounded with brand new stands.
Only one of them provides covered seats, remaining sides are open terraces with limited room. Still, thanks to the public investment resulted in local team Lunds BK receiving a compact and modern venue to hold league games in, with capacity more than sufficient compared to current needs.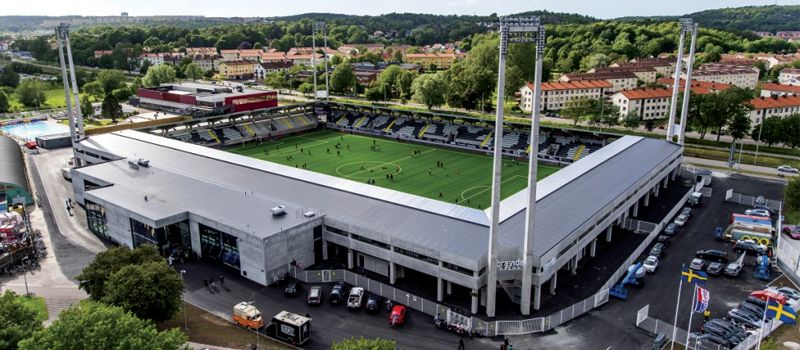 Good old Rambergsvallen was built back in 1935 and in the new century had to make way for a new stadium. Like in numerous cities across Europe, the athletics track was dropped in favour of a more compact football design.
Seemingly simple, maybe even too ordinary, the stadium in north-western Gothenburg is well thought through and original. It was built using almost only concrete prefabs. While this could well describe many stadia, in this case even the roof structure and floodlight masts are concrete, which is unseen overall. The reasoning for such move is purely pragmatic: salty wind from nearby sea could make metal elements harder to protect from rusting.
Floodlights can be considered the key visual feature, because they comprise a nearly 40-meter frame in each corner, rising well above the modest stadium (roof at 10m). Building such tall structures wasn't that easy too, because ground under the stadium required significant piling work before construction. And as if this wasn't enough, the former Rambergsvallen stadium site only allowed to build the stadium in west-east layout instead of preferable north-south.
As a result of these numerous constraints it seems very unlikely for the new Bravida Arena to ever reach crowd peaks of the old ground. Stands now hold 6,500 with both ends mostly having standing room. Although it's possible to add further uppermost rows to grow beyond the 7,000-mark, expansion above that level would require significant interference with the concrete venue.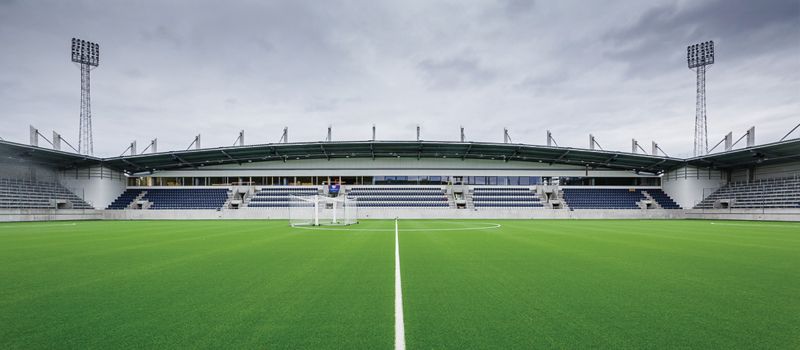 Compact and steep stands (of 10 rows at highest point) and enclosed corner walls give this stadium in eastern Sweden a very intimate feeling. All fans are close to the field and sightlines are further improved by all of the audience being raised above field level.
This design, created by local architect Johan Skoog, was implemented due to extremely limited possibilities of expanding the old Strömvallen, a venue much closer to the city center. Encompassed by water and with one grandstand listed as monument, the traditional football ground proved unsuitable for reform.
That's why professional football had to relocate way up north, forcing shuttle buses to take fans to the new stadium. This time, however, the stadium will have room to grow if needed. It stands in Gävle's biggest sport center, on the site of former parking places.
The stadium took just over a year to build between 2014 and 2015 and just like the old one it was built along the east-west axis. With a limited number of standing room the ground is able to hold just over 6,400 people.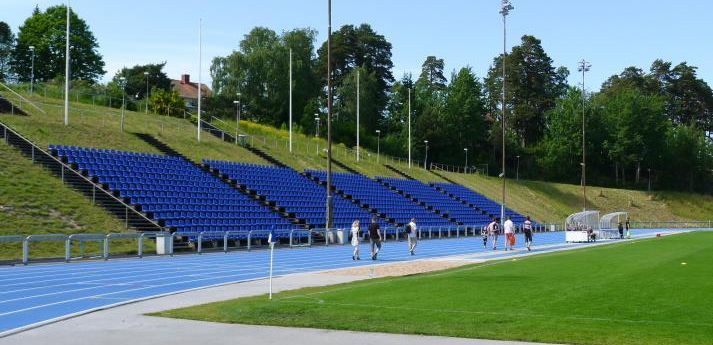 The main stadium of Sollentuna (directly north of Stockholm) lies just beside the Edsviken bay waters. It was built in 1969 primarily with athletics in mind. It hosted the national championships of Sweden in 1969, 1971, 1995 and 2006. Regular use is provided by Tureborgs FK.
However, football is also played here by professional team FK Sollentuna. The team struggles to fill the ground to capacity. Sollentunavallen has two grandstands. Western one is based on land slope, while a lower covered stand was erected in the east. Both are currently seated.
Aside from the main stadium there also is a training field for football (synthetic, used for bandy in winter), a sports hall south of the stadium and one more indoor arena to be opened in the north in 2016.