New from Japan: Great dreams from Osaka
source: StadiumDB.com; author: michał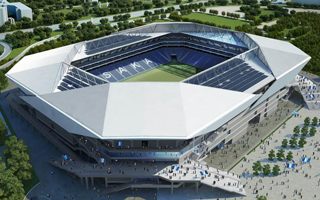 Two derby rivals, two big stadiums for 40,000. That's some tasty rivalry! One is already built (though not opened), the other is on the drawing board.
Take a trip to Osaka with us. There are two important stadiums being built/planned there. Why important? Because they're great proof of how Japan is shifting from the large multi-use stadia of 2002 World Cup and instead focusing on football-specific ones.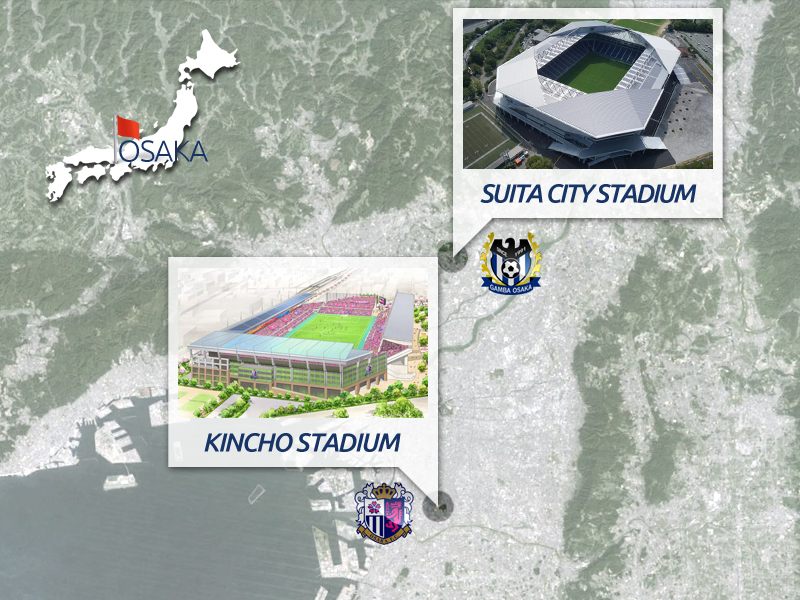 Construction of a new stadium was the dream of Gamba Osaka from 2007. Their home ground at the Expo 1970 complex was already behind international regulations or actual expectations of football fans. That's why in 2009 a detailed vision of relocation was drawn. The club would move just 700 meters south, to land within the Expo park.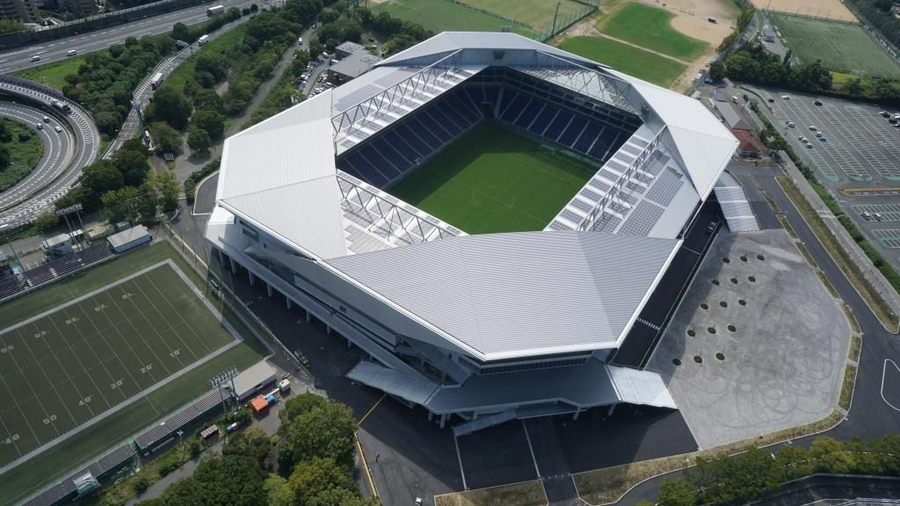 Due to limited opportunities of receiving public funding and insufficient private support, the project was stalled for some time. Which in the end may have been for the better, because by 2013 it was decided to increase capacity from 32,000 to 40,000 (allowing it to be part of Japan's 2022 World Cup bid). Also a strip of skyboxes was removed from the north end, allowing for extension of regular seating for most vibrant fans of Gamba.
What remained since 2009 was the robust plan of how the stadium should be shaped: very compact double-tiered stands (just 7-10m from the field) in a raw, concrete bowl. No decorative elements outside, except for the dynamic ribbon-like roof.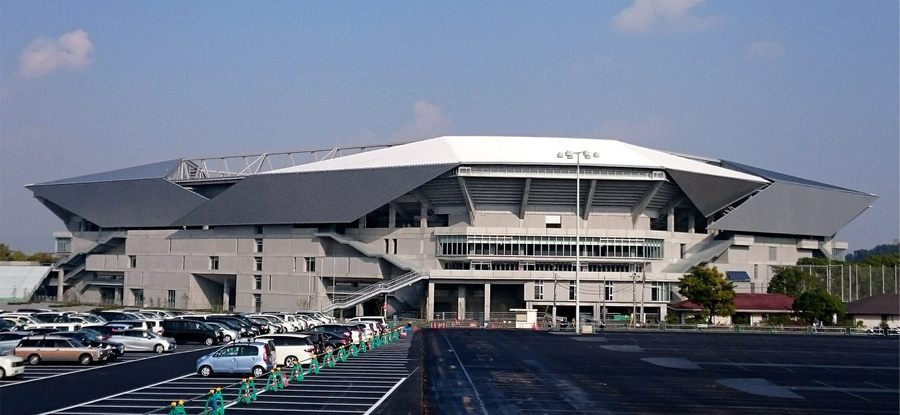 Described as 3D, the roof structure consists of primary trusses placed in 3 directions (thus the name). Using this layout allowed to cut amount of steel by 40% and also makes the structure able to withstand earthquakes.
Not only the steel, but energy and water consumption were targeted to be efficient. Half of the water (5,500 tons) used by toilets will be collected during rainfalls, the roof has a 500kW solar power plant (equivalent of 184-household use), while floodlights are Japan's first LED system, reducing electricity use by 27%.
Efficiency was also crucial when planning the floor space. The stadium in Suita has Japan's largest skybox/hospitality offer and at the same time may serve as emergency storage (480 square meters) or shelter for up to 800 residents (short term, fewer for longer periods). This use is among factors that gave it some public funding.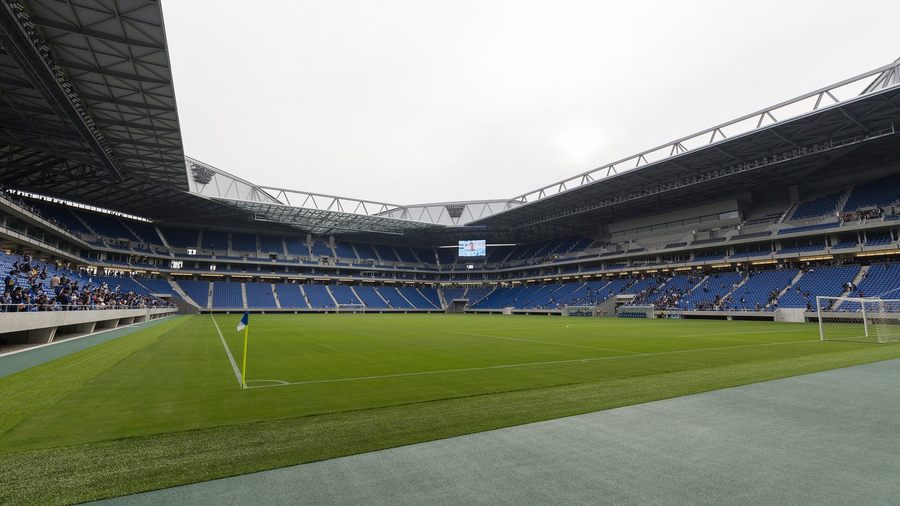 Construction was launched after some delay in December of 2013, but thanks to the precast elements the concrete structure was complete after just over a year. Entire stadium was delivered in October 2015, though without official opening for many weeks.
Construction cost was estimated at ¥15 billion in 2008, but eventually proved lower despite extra capacity. It went slightly above 14 billion ($115m / €107m), of which public authorities contributed ¥3.25bn. Vast majority came from private donations, primarily corporate (9.95bn). Thousands of people who offered their money (622m) were then invited for a community day on October 10, 2015, long before opening.
Kincho Stadium, Osaka (40 000), Cerezo Osaka
Just like their rivals at Gamba, Cerezo announced plans of changing their stadium. This time it's not about relocation, even though the 2002 World Cup Nagai Stadium stands just meters away. It's far too big, already dated and most importantly: has a running track.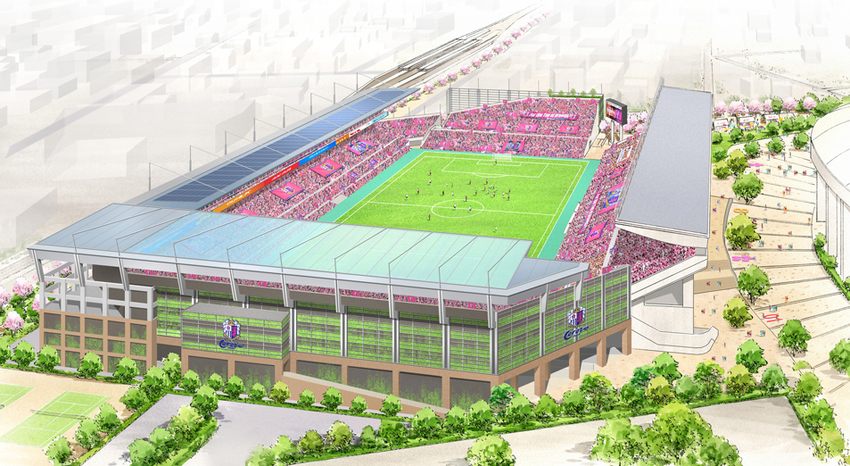 Thus the decision to upgrade and expand their current home, despite limited space available. Only the main grandstand (east) would remain largely unchanged. Modest northern stand, last one added to the current stadium, would receive further sections and grow as far as nearby street allows.
West and south stands on the other hand would be completely rebuilt, eventually leading to the stadium capacity almost doubling. Both new stands will be covered. The southern one with polycarbonate, to allow sunlight access to the field. Western one with more opaque materials, on which solar panels would be placed. The south will allow placing hotel or other structures underneath the terracing.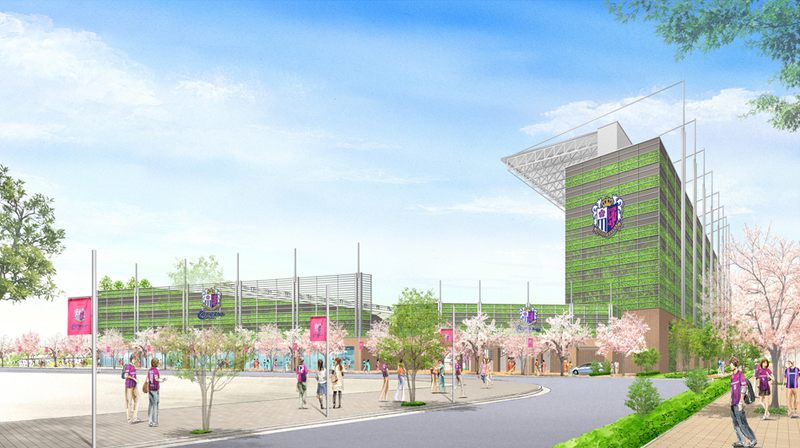 Using solar power is only one of the efforts to make it an "eco stadium". This is combined with vertical gardens on the new stands' facades and numerous cherry trees, making the place feel more cozy and welcoming.
The entire project is estimated to cost ¥ 5 billion ($41m / €39m) and be built within 2 years. Because Cerezo want to build it completely with donations, they've set up a deadline of 2 years to collect the amount. But even if the sum is not there in 2017, works would go ahead, possibly with club's own funding used, despite the stadium being owned entirely publicly.