Russia 2018: Grass in Sochi by year end
source: Kuban24.tv / Stadiums.at.ua; author: michał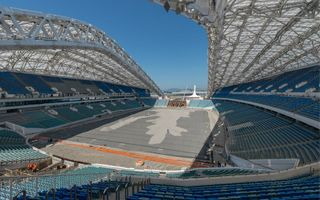 No sooner than two years after official opening will Stadion Fisht actually become usable for football. Current preparation progress for the 2018 World Cup stands at just 35%. Why?
Stadion Fisht in the suburbs of Sochi was opened early into 2014. First game won't be possible to take place until early 2016, though. Earlier there was no football field, because the stadium played host to the Olympic ceremonies and later had its temporary roof removed.
Now the drainage and under-soil heating systems are in place for the field to begin growing on. Natural grass will be sowed around the year end. Already now concrete stands are being built behind both goals, where previously open gateways were created to accommodate the 2014 Olympic ceremonies' infrastructure.
Overall the progress rate of 2018 World Cup preparations in Sochi is very low, though. It stands at just 35% for a somewhat unexpected reason. While the stadium was already constructed, new legislation for construction and fire safety was introduced.
This means additional alterations have to be made to fit the new legislation in what has already been built. Similar issues also concern the stadiums in Kazan and Saint Petersburg.