New design: LA Coliseum (not much) redefined
source: StadiumDB.com; author: michał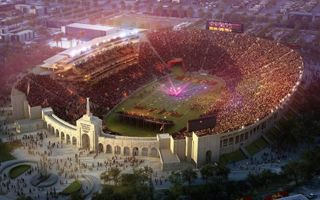 Retaining as much as possible of the iconic stadium and at the same time making it a prime sports venue for Los Angeles. That's a challenge priced at $270 million!
Without a doubt the LA Coliseum is one of the world's most important sports venues. After all, it held two Olympics (1932 and 1984) and is bidding to grab the third edition for 2024. So how could it look then? Here's the latest proposal, this one submitted by University of Southern California.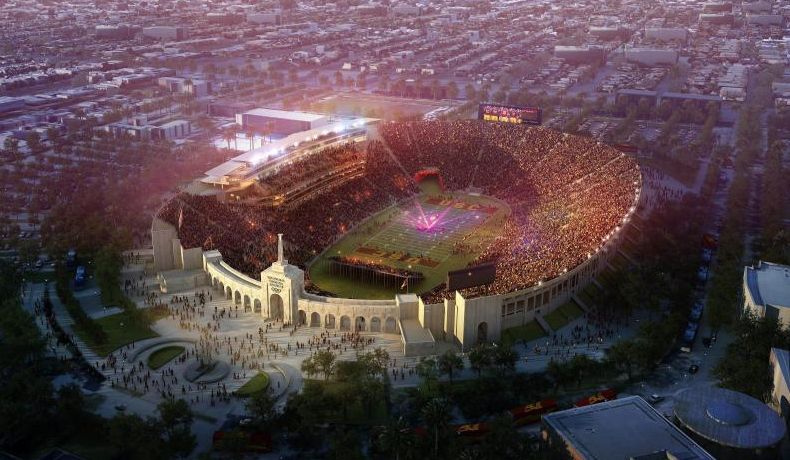 USC remains the key tenant ever since the building opened in 1923 and the university had already pledged to invest $70 million within a decade and $100m by 2054. But this project's scale outgrows what was proposed earlier. Thus the increased budget revealed by USC to be $270 million, expected to be raised entirely privately, without imposing any fees on USC students.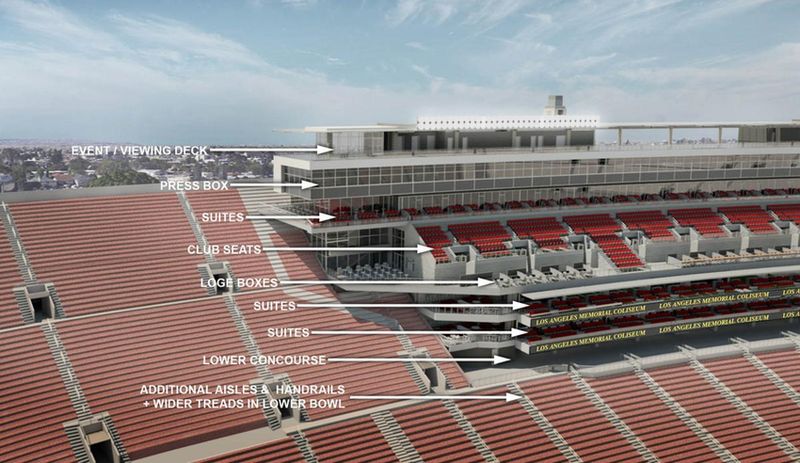 The University's biggest challenge will be the south stand. As the stadium is listed as a monument, it cannot be changed entirely. With this in mind a brand new building with up to 10 floors will be raised in the south, comprising new sports, press and corporate facilities, including suites, loges and a viewing/event deck on top of it all.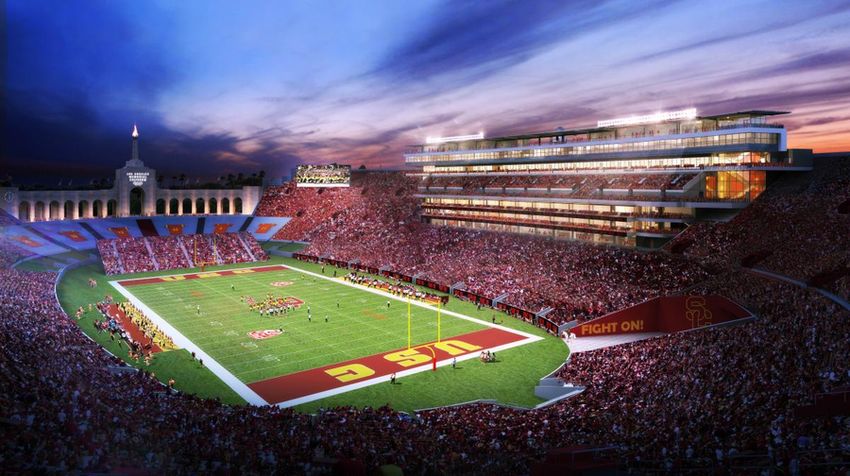 The wider seating bowl will not be changed, but addition of new seats, aisles and handrails will result in decreasing capacity from over 93,000 to some 77,500. The project also includes complete replacement of all electronic systems (lighting, giant screens, Wi-Fi, etc.) and renovation of the historic peristyle decorating eastern entrance to the stadium.
Detailed design is expected in 2016, while construction may begin in 2017. By 2019 the project might be finalized and, worth noting, the Coliseum would be used for football throughout!
What about the Olympic concept?
As you may recall, there's a completely different scheme presented in the official bid for 2024 Olympics. That proposal sees vast majority of the existing structure gone and rebuilt, covered and priced at much, much more – some $800 million.
While these would be mutually excluding if the Olympic bid was a solid plan already, the USC proposal may actually help Los Angeles in winning the 2024 tournament rights.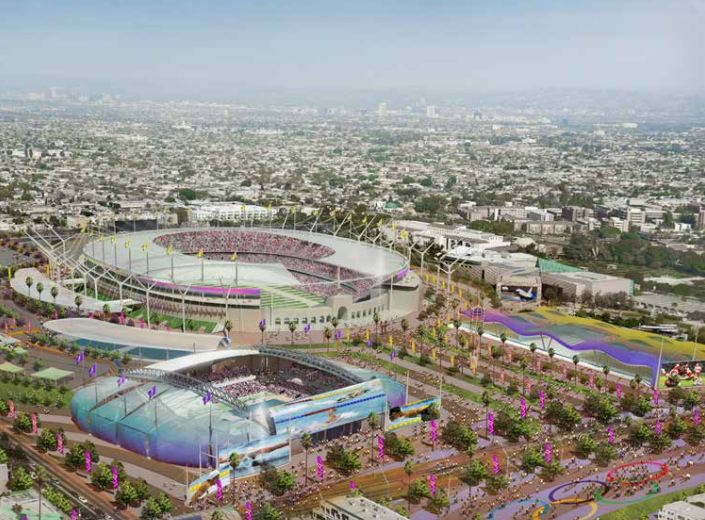 What was released by LA2024 so far is a very early sketch and all parties realise it will change significantly (if not entirely), if the American city wins the IOC vote in 2017. If the USC plan goes ahead as indicated by the University, nearly all infrastructural criteria of the IOC would be met well in advance and without the issue of taxpayer funding.
Additional works for the event might be needed of course after USC are done with reconstruction, but the burden of renovations would be far smaller, thus increasing the feasibility of LA"s candidacy.