New design: Is this a mini Allianz Arena?
source: StadiumDB.com; author: michał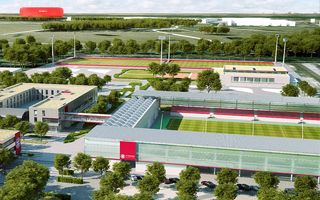 Back in 2013 the new secondary stadium was announced as a 'mini Allianz Arena'. Does this latest rendering meet these expectations? Judge for yourselves.
FC Bayern's youth academy and training centre will be built at Ingolstadter Strasse in northern Munich. The club purchased 30 hectares of land back in 2006, making sure the complex will be located just 2km west of Allianz Arena. Back in 2013 the planned new stadium was announced as a 'mini Allianz Arena'. So far we only have one rendering, so we'll leave the judging to you!
The stadium, dedicated to youth and female team games, will sit at the heart of the planned complex. Though completely enclosed and covered, the stands will hold only some 2,500, fitting limited demand for secondary football games. The north end will not hold audience, but will be part of the youth academy facilities.
Groundbreaking officially took place on October 16, 2015. Construction will last until mid-2017 and cost roughly €70 million ($80m). Aside of the main stadium the complex will also offer 7 training fields, two of them artificial and two smaller than regular. Also an indoor training hall will be built.