Munich: Bayern announces 'mini-Allianz Arena' in new youth complex
source: merkur-online.de; author: michał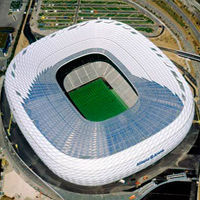 One more stadium for Bayern will be built near the current Allianz Arena as part of the club's football academy. It's going to serve all youth, female and reserve squads.
Today male and female players of Bayern's secondary teams lease three different stadiums to play in, two of them being outside Munich. Despite the club claiming to enjoy partnerships with local authorities, a new plan is in place.
Youth manager Wolfgang Dremmler assures that a new extensive youth academy will boast a "mini-Allianz Arena"stadium. Of course it will be downscaled very significantly to fit the demand for youth and female games.
The project is to be implemented over the next "few years" and should be located in the vicinity of Allianz Arena, some 2.5km (1.5 mile) south-west, in the Fürst-Wrede Garrison.