Iraq: Turkish workers released after stadium abduction
source: lidtime.com; author: michał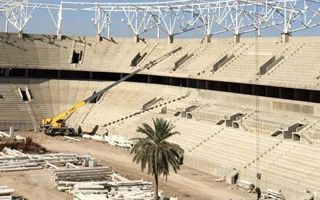 16 Turkish construction workers abducted from Al Sadr City Stadium were released unharmed. This shows how unstable situation in Iraq is, also concerning sports projects.
Recent years saw huge investments made in Iraqi sports infrastructure, but recent conflicts and the Islamic State's expansion has extremely negative impact on these projects.
On September 2 supposed Shia militants kidnapped over 20 workers, reportedly based on their ethnicity, from the Al Sadr City Stadium site. 18 of the men were Turkish. The workers appeared in a video days after their abduction, kneeling in front of five masked gunmen and a banner bearing a slogan used by Shia militias in Iraq.
Works were halted temporarily as they were carried out by Turkish Nurol Insaat. Two were released back in September, now the remaining 16 were freed unharmed.
Earlier, in July, the Islamic State planted explosives at the abandoned Anbar Stadium construction site. The building was severely damaged by the explosion, but later observed to be very much intact structurally.