Netherlands: Solar power not only at big stadiums
source: StadiumDB.com; author: michał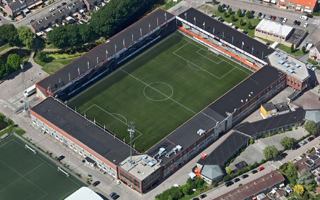 Amsterdam ArenA is known for its use of solar and wind energy. That's great, but who said only big venues can make good use of it? Now everyone can buy a piece of Volendam stadium's photovoltaic roof.
After the success of their first solar-stadium initiative in Groningen, now the 1miljoenwatt campaign moves to Volendam. Here a solar power plant will also be built on top of the local stadium.
Kras Stadion is much smaller than Euroborg, but the scale is nearly identical. In Groningen 1,092 solar panels were installed, while in Volendam the number is just slightly lower: 1,058.
The total investment should reach €120,000 and will be crowd-funded. This means everyone locally may take part in the project, investing in one of 14 available packages. Lowest one is priced at €25, €450 buys you a single panel and €7,200 produces enough power to supply a household with.
What's the investment idea here? Every year, based on the panels' efficiency and energy prices, every participant receives from 3.1% to 5.4% of their investment back. And after 24 years the entire sum they've invested is also given back to them.
This sounds like a good deal, which is why after several first days already over 10% of the Volendam roof is paid for. In total the roof will generate enough clean energy to power nearly 70 households every year.