New stadiums: These Chinese beauties
source: StadiumDB.com; author: michał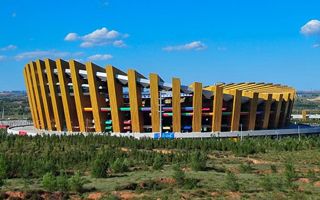 Golden saddle, Islamic dome, wicker basket or little bird's nest – whichever you look at, these Chinese stadiums will impress you. And the biggest one opens tonight!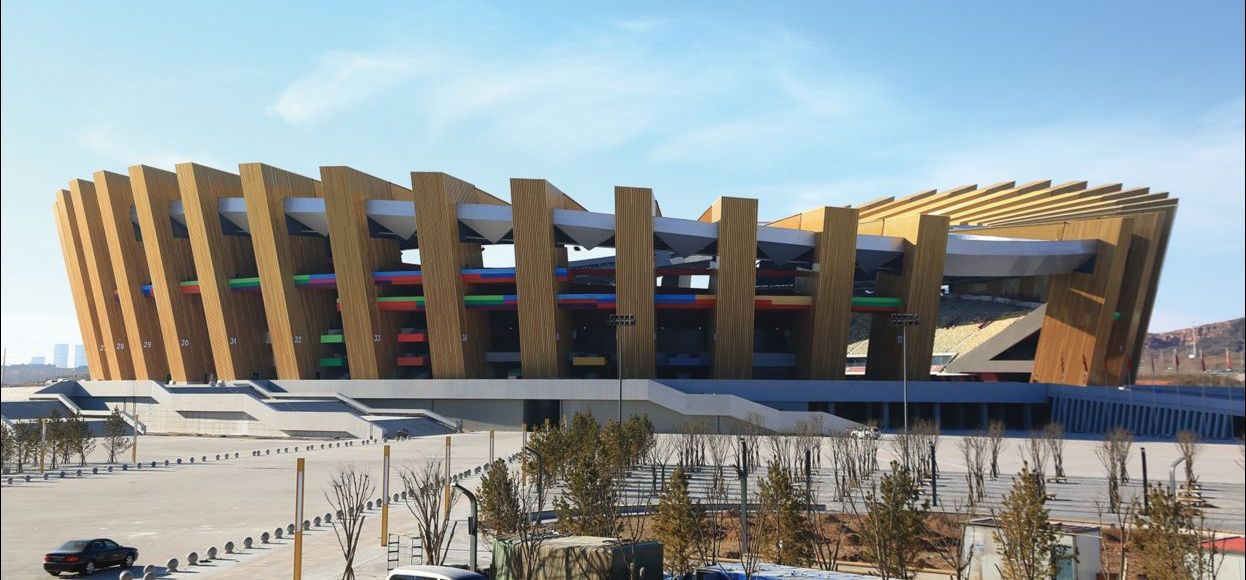 Construction of this major sports complex in Inner Mongolia's city of Ordos was launched in March 2012. From the start it was supposed to be focused around the idea of a "golden saddle" as a tribute to the role of horses in Mongolian culture.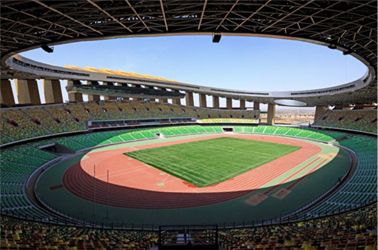 Beijing design giants worked on the development of this project to create vivid and strong aesthetics in which the saddle effect is reached by the roof outline of the main stadium. Bathed in gold, the massive columns decorate all major venues: the main stadium (60,000), indoor arena (12,000) and natatorium (4,000). The entire project spans across nearly 340,000 square meters and was built at the price of 7 billion yuan ($1.1bn / €1bn).
The main stadium has nearly 140,000 square meters of floor space and dominates the landscape thanks to its 46 tall columns. Gold, black, grey and beige are considered natural colours, while red and several other more vivid colours break the order to represent vitality and spirit of the people.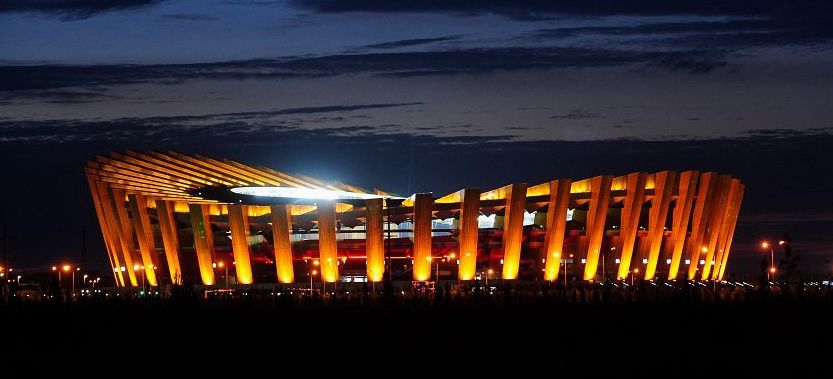 Inside, the stands were divided into two large tiers. A mosaic of yellow and green seats is supposed to resemble a meadow in blossom. North end is opened towards the mountains and offers a large plaza accessible from a long ramp going far north.
Construction was initially expected to end by the end of 2014, but eventually took until mid-2015. Finishing touches were made in the summer, just before China's 10th National Traditional Games of Ethnic Minorities (Aug 9 – Sept 17).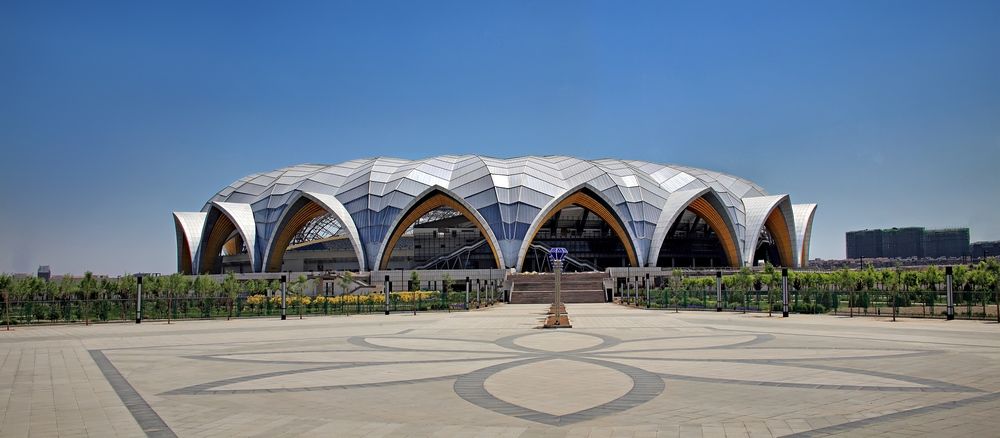 The uniqueness of this stadium in western Yinchuan (Xixia district) is its domed roof. 20 nearly identical segments create the high roof reaching the height of 46.5 meters. Covered with grey polycarbonate, the outer form has 20 large gates. Their shape earned it the nickname of "Islamic" in terms of design. That said, the entire stadium sits on a large pedestal with cross-shaped blueprint.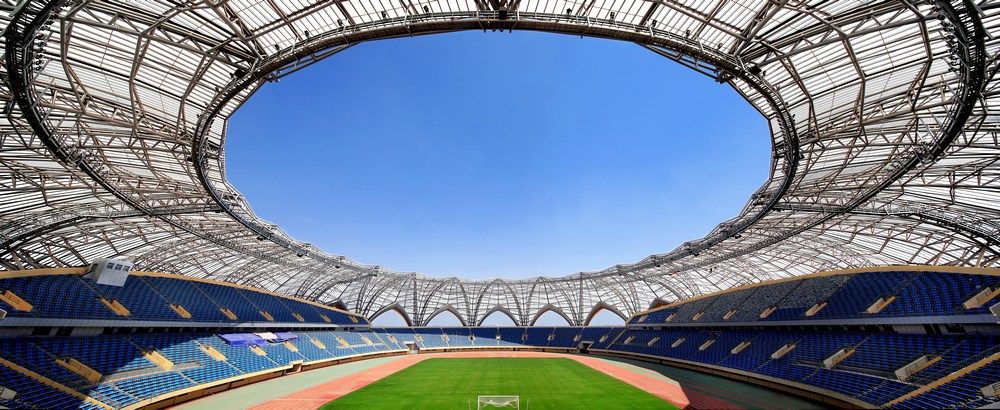 Regardless of the aesthetics, the stadium was named after Helan Shan, local mountain range.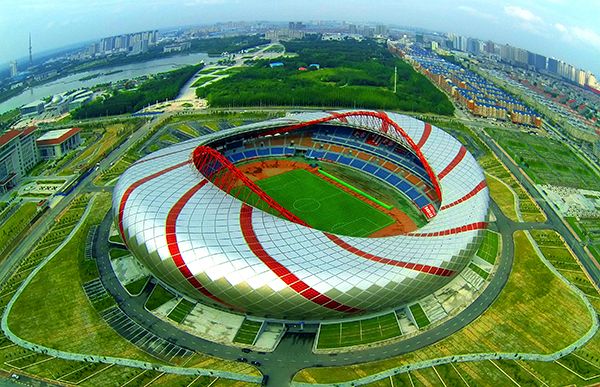 Modern stadium in northern city of Daqing is expected to resemble a wicker basket. In a modern way this makes a connection with traditional Chinese crafts. Visually the basket-alike pattern is created by brown mesh and red polycarbonate panels placed across the tin-covered dome. But the stadium's key feature is its 800-meter long red steel ring winding above the stands and co-supporting the roof. This ring visually creates handles of the basket.
The stadium was built nearly at the heart of Daqing, directly adjacent Daqing's largest park and between three major lakes. It offers 3,000 parking spots and is part of a greater sports complex. The entire project with three indoor halls consumed CNY 1.55 billion, but the stadium itself required roughly a third of that amount (560 million, or $88m / €71m in 2012).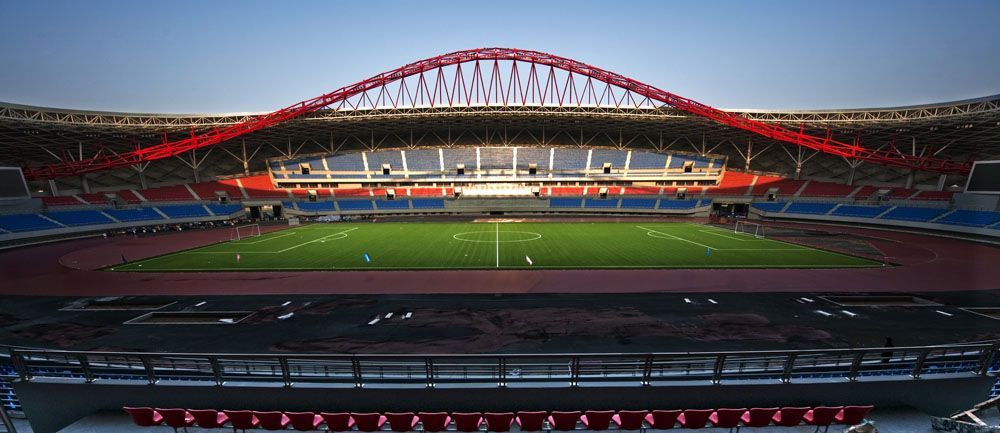 The stands are able to hold just over 32,000 people, including over 700 guests in 58 skyboxes. There are also two large lounges for corporate guests. Overall the infrastructure consists of 4 floors underneath the stands. Concrete structure's peak is reached at 27m, while roof structure has its highest point at nearly 42m, not counting the red arches.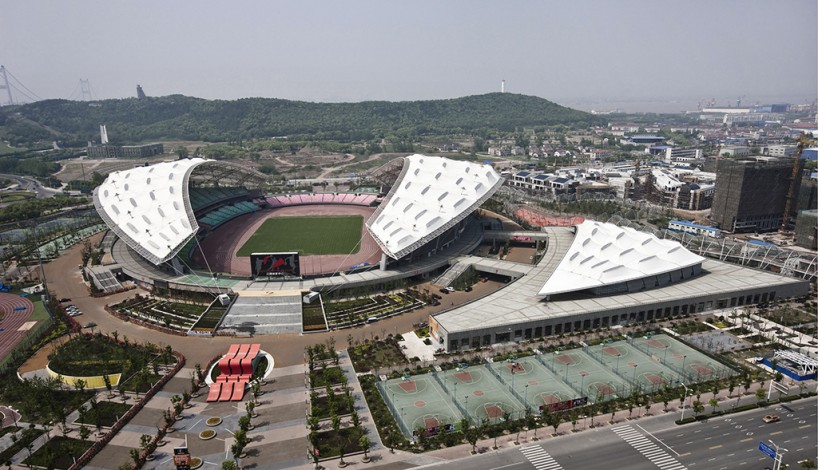 Nicknamed the "little bird's nest", this multi-use stadium in Jiangyin was built in late 2009. It covers nearly half of the city's central sports complex (41,200 of 84,000 square meters). Large indoor hall, extensive training facilities and underground parking sites are also part of the project.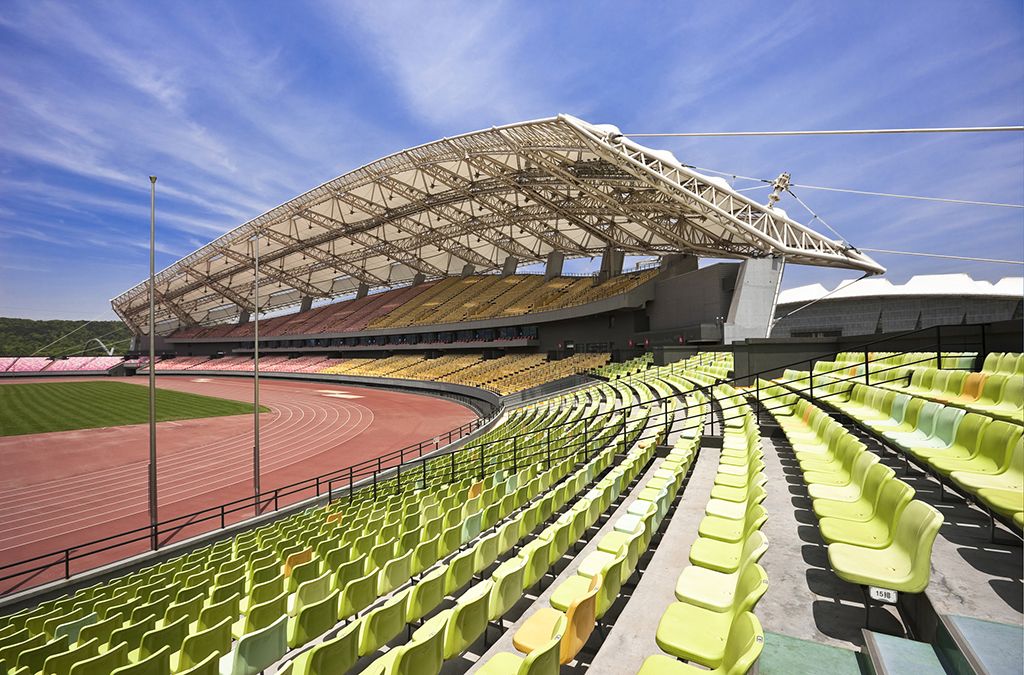 Simple and traditional stands are topped by light membrane roof, peaking at 47.8m. Whitish by day, the membrane comes to life in the evening thanks to large number of LED lights installed directly under the roof. Separate illumination of the concrete stands adds to the versatility of this stadium's nighttime displays.